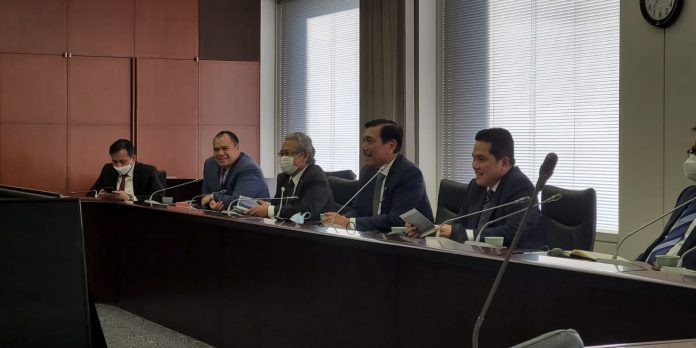 Jakarta (Indonesia Window) – Japan will invest 4 billion U.S. dollars in Indonesia's Sovereign Wealth Fund (SWF), according to a written statement from the Indonesian Embassy in Tokyo received by Indonesia Window here on Monday.
Indonesian Coordinating Minister for Maritime Affairs and Investment Luhut B. Pandjaitan said the governor of the Japan Bank for International Cooperation (JBIC), Maeda Tadashi, had submitted his commitment to the establishment of Indonesia's Sovereign Wealth Fund (SWF).
"The JBIC is ready to support Indonesia's SWF funding of 4 billion U.S. dollars, or twice bigger than that the U.S. International Development Finance Corporation (DFC) has committed to," Luhut said.
He along with State-owned Enterprises Minister Erick Thohir and Indonesian Ambassador to Japan Heri Akhmadi visited Tokyo on Friday (Dec 4) and held a marathon meeting with the JBIC governor and 20 other Japanese investors in the financial and energy sectors.
"The JBIC will be one of the financial institutions participating in the SWF Indonesia master fund called the Nusantara Investment Authority (NIA)," Ambassador Heri said.
He added that the supports from the JBIC and the Japanese government would strengthen strategic cooperation between Indonesia and Japan, and increasingly attract other Japanese private sectors to invest in the archipelagic country.
The commitment made by the JBIC governor will soon be followed up to a technical level, and it is expected that investment from the Japanese central bank will begin to enter Indonesia in the first quarter of 2021.
Meanwhile, the state-owned enterprises said the regulation on Indonesia's SWF would be completed and issued in mid-December.
"Of course, the regulation will further accelerate the establishment of an Indonesian endowment fund institution," he said.
Coordinating Minister Luhut and Minister Erick left for Abu Dhabi, the United Arab Emirates and Saudi Arabia on Saturday (Dec 5) to explore supports for the formation of the NIA.
Reporting by Indonesia Window