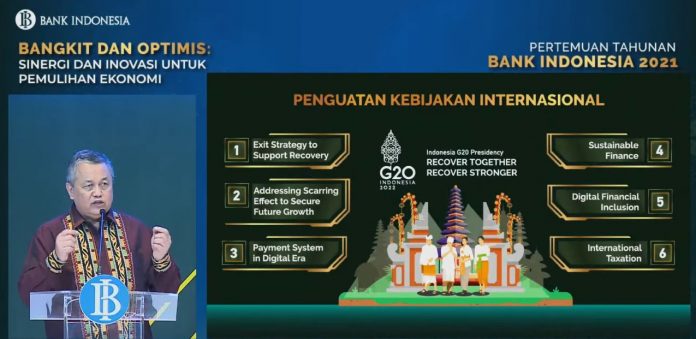 Jakarta (Indonesia Window) – Indonesia's digital banking transactions will reach 40,000 trillion rupiahs (about 2.8 trillion U.S. dollars) in 2021 and are expected to increase to 48,000 trillion rupiahs (about 3.3 trillion U.S. dollars) by 2022, according to the central bank, Bank Indonesia (BI).
"The digital economy and finance will increase rapidly next year," BI Governor Perry Warjiyo said at the 2021 Bank Indonesia Annual Meeting (PTBI) here on Wednesday (Nov. 24).
In addition, he projected that Indonesia's e-commerce transactions in 2021 would reach 403 trillion rupiahs (some 28.2 billion dollars) and increase to 530 trillion rupiahs (some 37.1 billion dollars) by 2022.
Meanwhile, electronic money transactions will increase to 289 trillion rupiahs (some 20.2 billion dollars) in 2021 and to 337 trillion rupiahs (some 23.5 billion dollars) by 2022.
Perry emphasized that BI would continue to strengthen the acceleration of the national digital economy and finance by building an end-to-end ecosystem between digital banking, financial technology, e-commerce, and establishing strong Indonesian unicorn companies.
"We continue to build modern infrastructures, and also expand the Quick Response Code Indonesian Standard (QRIS) with an additional target of 15 million collaborations, QRIS between countries, and SNAP (National Standard Open API1 Payments) one language for payment connections," he added.
In addition, BI-FAST will also be expanded to all banks to serve real-time retail transactions without stopping for people with a simplified price scheme so that low transaction costs for the public continue to boost industrial innovations.
The BI governor continued, digital rupiah is now also being prepared by the central bank as a legal payment instrument in the country.
BI also supports electrification of local administration financial transactions, digital social assistances, digital transportation modes, as well as digital SMEs (small-and-medium- enterprises) and tourism.
Reporting by Indonesia Window