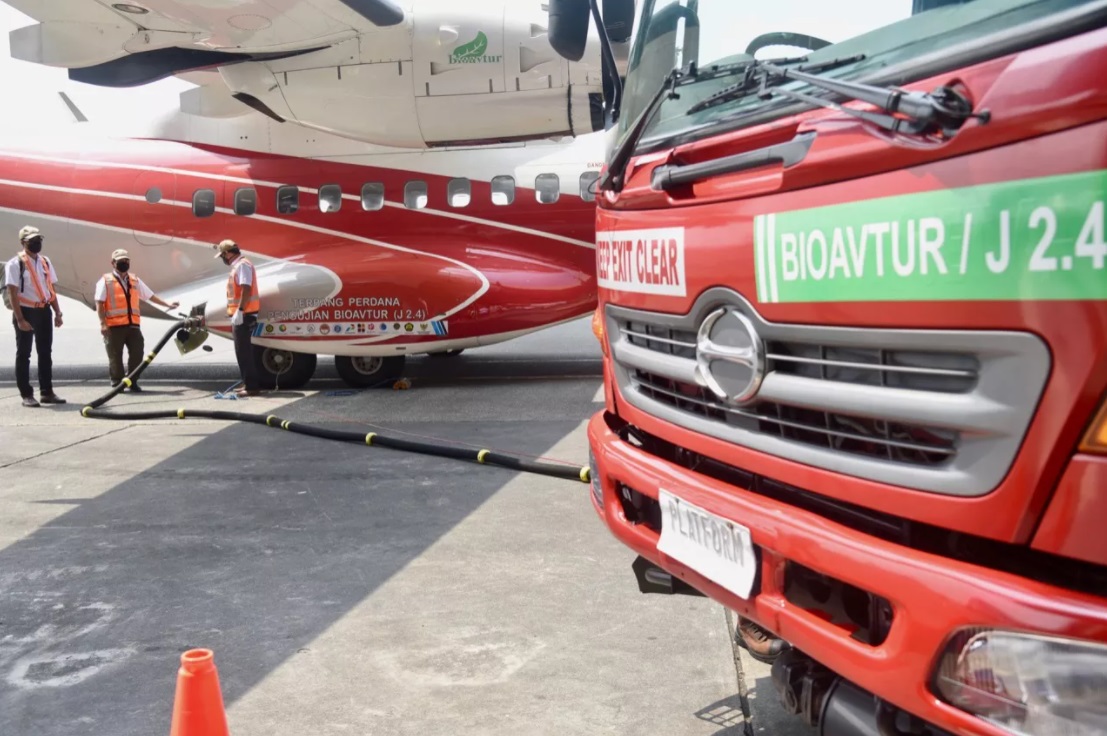 Jakarta (Indonesia Window) – An aircraft produced by Indonesia's state-owned aerospace company Dirgantara Indonesia, CN235-200 FTB (Flying Test Bed), managed to fly from Bandung to Jakarta (straight line flight of 23 miles, or approximately 37 kilometers) using bio-aviation fuel, named J2.4, on Tuesday (Oct. 6).
President Director of Indonesia's state-owned oil and gas company Pertamina Nicke Widyawati said that the J2.4 bio-aviation fuel produced by Kilang Pertamina Internasional of Pertamina's refinery unit in Cilacap showed performance that was almost equivalent to that fossil-aviation turbine fuel, with a difference of only 0.2-0.6 percent.
Pertamina has initiated research and development of bio-jet fuel through the Dumai (Riau Province) and Cilacap (Central Java) Refinery Units since 2014.
"The bio-jet fuel J2.4 which contains 2.4 percent vegetable was manufactured using a catalyst technology," Nicke said.
According to her, the Cilacap Refinery Unit has technical capacity to develop national bio-aviation fuel. The Cilacap Refinery business unit is the largest producer of aviation turbine fuel oi in Indonesia, with the highest production of 1,852,000 barrels throughout 2020.
The development of J2.4 consists of two important stages, namely the initial stage which is managed by the Dumai Refinery Unit through Distillate Hydro Treating Unit (DHDT). At this stage, a hydro decarboxylation process is carried out to produce bio hydrocarbon diesel and bio-aviation fuel on a laboratory scale.
Furthermore, in the second stage the hydro deoxygenation process is carried out to produce more efficient bio-hydrocarbon diesel.
In 2020, the Dumai Refinery Unit succeeded in producing D-100 bio hydrocarbon diesel which was 100 percent derived from vegetable raw materials, namely Refined Bleached Deodorized Palm Oil (RBDPO).
RBDPO is palm oil that has gone through a refining process to remove free fatty acids, as well as a purification that eliminates color and odor.
Those initial stages are important steps in developing green products including green diesel and bio-jet fuel.
Meanwhile, at the Cilacap Refinery Unit, the development of bio-aviation fuel is carried out in Treated Distillate Hydro Treating (TDHT).
The national-made catalyst for bio-jet fuel is produced at Clariant Kujang Catalyst's facility in Cikampek (West Java), with a direct supervision from Pertamina's Research Technology and Innovation (RTI) team.
Meanwhile, in the Cilacap Refinery Unit, bio-jet fuel is produced from palm kernel oil or Refined, Bleached, and Deodorized Palm Kernel Oil (RBDPKO) and fossil aviation fuel.
The capacity of bio-jet fuel production at the Cilacap Refinery Unit reaches 8,000 barrels per day and will continue to increase according to market needs starting in 2023.
Meanwhile, the President Director of GMF (Garuda Maintenance Facility), Andi Fahrurrozi, explained that the bio-jet fuel testing process in the static test stage always adheres to the manual issued by the aircraft engine manufacturer.
A special procedure was also carried out so that the A1 jet fuel and J2.4 jet fuel did not mix during the test in order to provide representative and accurate results.
"As a result, the performance of the two is very close. There is no significant difference, and hence the J2.4 bio-jet fuel was considered to be eligible to undergo a non-static test stage to the CN235-220 aircraft," said Andi.
Reporting by Indonesia Window