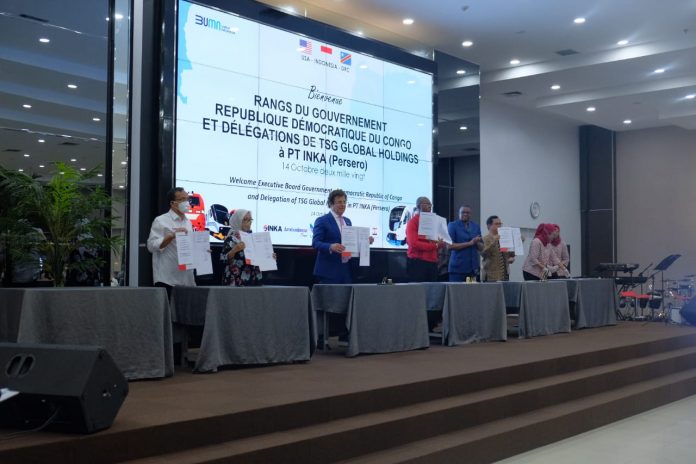 Jakarta (Indonesia Window) – A number of Indonesian state-owned estreprises along with TSG Global Holdings and representatives of the Democratic Republic of Congo (RD) government on Wednesday (Oct 14) signed contracts to build a number of infrastructure projects in the Central African country.
According to a statement from the Indonesian Embassy in Nairobi on Thursday, the contracts include the constructions of the Kinshasa-Loop Line that is connected to Ndjili International Airport in Kinshasa, commuter lines that go around Kinshasa city, and the provision of electric buses as well as charging stations.
In addition, there is also a plan to build an Aero City in the airport area, construction of fibre optic cable networks, and port facilities.
The value of the contracts is estimated to reach more than 11.8 billion U.S. dollars.
"This agreement is a follow-up to the memorandum of understanding that was signed in August 2020," President Director of Indonesia's rolling stock manufacturer INKA Budi Noviantoro said.
"The investment in the first phase of the whole project will be worth 2 billion U.S. dollars," he noted.
INKA will work on the loop line, commuter lines and electric buses.
Meanwhile PT LEN Industri (Indonesia's electronic equipment company) will handle the construction of the fibre optic cable networks; Merpati Nusantara Airlines and PT Dirgantara Indonesia (Indonesia's aircraft industry) will build Aero City; and PT. Barata Indonesia (Indonesia's engineering, procurement and construction company) will build smart city infrastructures and port facilities.
Those projects are expected to become the entry points for Indonesian SOEs to Congo and other African countries.
Meanwhile, Kinshasa's governor Gentiny Ngobila Mbala said his administration was looking for development solutions for people in the Congolese capital.
Kinshasa is one of the largest cities in Africa with a growing population.
Currently the population of the city reaches 15 million people, or more than doubled of the number in 1960 when Congo first achieved its independence.
As yet, the city has no sufficient supporting infrastructures.
The commitment to development projects with a number of Indonesia SOEs is a continuation of the previous agreement.
In August 2020, the ground breaking of a solar power plant construction project in Congo was carried out by PT. INKA, PT. LEN Industri, and PT. Barata Indonesia.
The capacity of the solar panels to be built is 100 megawatts (MW), from the planned total capacity of 200 MW.
The solar power plant development is part of a large project called Kinshasa Solar City which aims to meet electricity needs from renewable energy sources.
Reporting by Indonesia Window