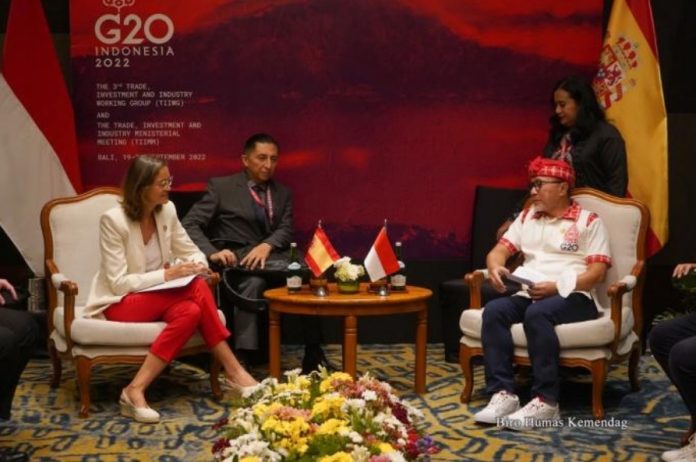 Cooperation between Indonesia and Spain is hoped to increase with the expected existence of the Comprehensive Economic Partnership Agreement (CEPA) between Indonesia and the European Union, which is still in the process of being finalized.
Jakarta (Indonesia Window) – Indonesian Minister of Trade Zulkifli Hasan met with Spanish Minister of Industry, Trade and Tourism María Reyes Maroto Illera, on Wednesday (Sept. 21), discussing opportunities for cooperation in the trade sector.
The meeting took place on the sidelines of the G20 Trade, Investment, and Industry Ministerial Meeting (TIIMM) which is being held in Nusa Dua, Bali, on Sept. 21–23, 2022, the Indonesian Ministry of Trade said in a written statement received here on Thursday.
"There is a great potential that can be explored to increase trade and investment between the two countries, including in the fisheries and tourism sectors," the trade minister noted.
The two ministers agreed on the importance of increasing interaction between business actors of the two countries to encourage the optimization of this potential, and for this reason, Zulkifli invited business actors.
Spain is also expected to participate in the largest trade fair in Indonesia, namely the 37th Trade Expo Indonesia (TEI) which will take place on Oct. 19–23, 2022.
The two ministers likewise supported that negotiations on the Comprehensive Economic Partnership Agreement (CEPA) between Indonesia and the European Union could be concluded immediately.
The agreement is believed to facilitate mutually beneficial cooperation between Spain and Indonesia.
Minister Zulkifli Hasan and Minister Illera also discussed the important role of the G20 in finding solutions to address current global challenges.
It is believed that the results of the G20 TIIMM Meeting can contribute positively to efforts to recover the global economy.
In the January–July 2022 period, the total value of the Indonesia–Spain trade reached 1.6 billion U.S. dollars or 6.71 percent compared to the same period in the previous year, and the total value of the Indonesia-Spain trade in 2021 was recorded at three billion dollars, up 53.83 percent compared to 2020.
Indonesia's exports to Spain in 2021 were booked at 2.3 billion dollars (up 55.07 percent), while the country's imports were valued at 684.1 million dollars (up 49.75 percent). Indonesia recorded a trade balance surplus of 1.7 billion dollars.
Indonesia's main export commodities to Spain are palm oil, copper ore and its concentrates, monocarboxylic fatty acids, steel, as well as animal and vegetable fats.
Indonesia's main import commodities from Spain are vaccines for humans and animals, medicines, food coloring, recycled paper or cardboard, as well as perfumes and fragrance liquids.
Reporting by Indonesia Window