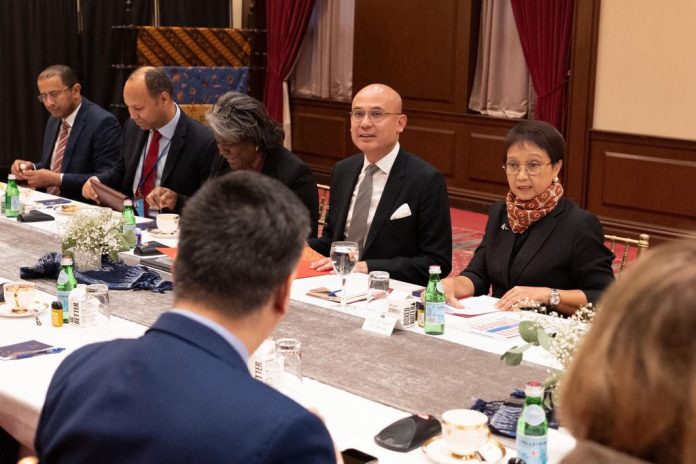 Indonesian Foreign Minister Retno Marsudi has discussed Afghan women education with several parties during her working visit to New York, the United States.
Jakarta (Indonesia Window) – During a working visit in New York, the United States, on Thursday (19/1) local time, Indonesian Foreign Minister Retno Marsudi held a meeting with a number of parties to discuss support for Afghan women education and the nomination of Indonesia in the UN Human Rights Council.
Several parties met by Foreign Minister Retno during her working visit in New York, included the United States Special Envoy for Afghanistan, Rina Amiri, according to an official statement from the Indonesian Ministry of Foreign Affairs on Friday.
The meeting discussed, among others, the follow-up to the International Conference on Afghan Women's Education (ICAWE)
The international conference which was held on Dec. 9, 2022 in Bali resulted in a political commitment and a concrete support for the education and empowerment of Afghan women.
Minister Retno conveyed the importance of exploring alternative educational methods such as using an online system, empowering women through informal education, and making dialogs between religious leaders of Islamic countries and Afghanistan.
The Foreign minister also met with permanent representatives of countries which are influential on the Afghanistan issue at the United Nations (UN).
Those countries include the United States, Britain, Russia and China (which are also permanent members of the UN Security Council), a number of Islamic countries such as Pakistan and Turkey, as well as donor countries including Germany and Switzerland.
Apart from discussing humanitarian assistance and support for Afghan women education, Retno also shared the priorities of Indonesia's chairmanship of ASEAN in 2023, namely developments in Myanmar and the Indo-Pacific region.
Indonesia received the transfer of ASEAN chairmanship from Cambodia and became the Chair of ASEAN 2023. The handover of the chairmanship was carried out at the closing ceremony of the 40th and 41st ASEAN Summits and other related summits at the Sokha Phnom Penh Hotel on Nov. 13, 2022.
Separately, Minister Retno also met with the Deputy Executive Director of UNICEF to ensure that the international community continues to provide vital humanitarian assistance to the people of Afghanistan.
Previously, she met with permanent representatives of Botswana, Burundi and Rwanda, discussing Indonesia's candidacy at the UN Human Rights Council for the 2024-2026 period.
The foreign minister expects support from all those countries in voting at the UN General Assembly in October this year.
Reporting by Indonesia Window