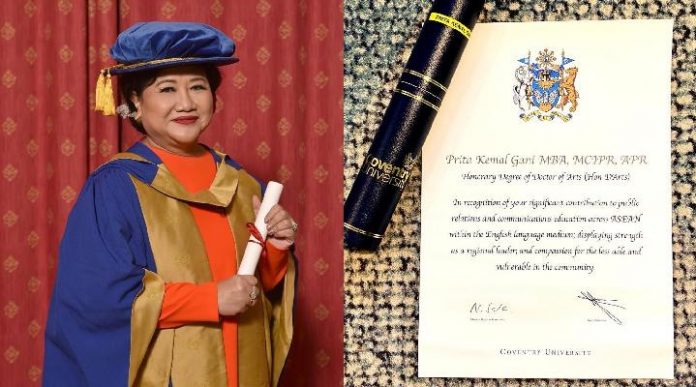 Jakarta (Indonesia Window) – The founder and CEO of the London School of Public Relations (LSPR) Communications and Business Institute, Prita Kemal Gani, has received an honorary doctorate degree (honoris causa) from the United Kingdom (UK)'s Coventry University.
Prita reached the honorary degree in the field of public relations, or Honorary Doctor of Arts in contribution to Public Relations and Communications Education Across ASEAN.
The honorary degree was bestowed by Coventry University Pro Chancellors Nick Sale on Monday (Nov. 15) at the Coventry Cathedral built in the 12th century, about 1,000 years ago.
The university, which was founded in 1843 and is now ranked 15th in the UK (based on The Guardian University Guide 2020), has awarded honorary doctorates to a number of figures who are considered to have contributed greatly to education.
"I would like to congratulate Prita Kemal Gani on receiving an honorary doctorate from Coventry University. Prita has extraordinary achievements in the field of public relations. This of course can be an inspiration for students," Coventry University Vice Chancellor Prof. John Latham said.
Prita is considered to have contributed significantly to education in the field of public relations and communications in the ASEAN region.
As a PR expert, Prita has helped PR practitioners continue to develop in the PR and communications industries.
Prita founded the London School of Public Relations in 1992. Since then, LSPR has become one of the most well-known public relations schools in Indonesia, with more than 6,270 students, and over 31,098 graduates to date.
During her career, Prita has received many awards, including Best Practices in the Public Relations and Communications Profession and Outstanding Entrepreneur Award from the Asia Pacific Entrepreneur Awards.
In addition, Prita is also involved in social issues and activities by establishing the London School of Autism Awareness Centre.
She is also listed as a member of the British Council's Climate Change Project Advisory Board.
"I am very grateful to Coventry University for their recognition of my works and achievements. I will cherish this award as one of the greatest moments of my life. I also want to thank my family and my team at LSPR that have always been my biggest supporters," she said.
The awarding of the honorary title was also attended by Indonesia's Extraordinary and Plenipotentiary Ambassador to the UK and Ireland Desra Percaya.
According to him, Indonesia and the UK have established a partnership for more than 70 years. This partnership is built on shared values, mutual trust and respect, and mutually beneficial cooperation, including in the field of education.
Ambassador Desra praised Prita's contribution to the education field by setting high standards for the public relations profession.
Under Prita's leadership, LSPR has helped young Indonesians prepare themselves to become future leaders, ready to enter the global community, while promoting a stronger Indonesian-British friendship.
"I believe that this prestigious title reflects the hard works she has dedicated in the education field," the ambassador said.
Earlier, Indonesian Professor of the Faculty of Medicine at Gadjah Mada University, Prof. Dr. Ali Ghufron Mukti, also received an honorary doctorate in the health sector from Coventry University in 2017. He now serves as Director General at the Ministry of Research, Technology and Higher Education.
Reporting by Indonesia Window