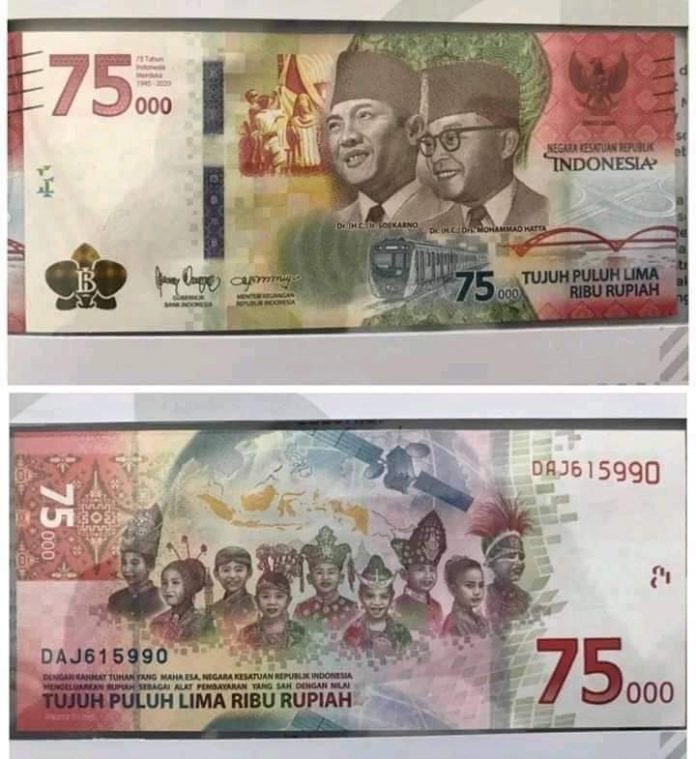 Jakarta (Indonesia Window) – Indonesia issues a bank note in the denomination of 75,000 rupiahs (some 5.08 U.S. dollars) as many as 75 million sheets to commemorate the 75th anniversary of the Indonesian Independence Day on August 17, 2020.
The new money was virtually inaugurated by Indonesian Finance Minister Sri Mulyani Indrawati and central bank Bank Indonesia's Governor Perry Warjiyo here on Monday.
Sri Mulyani noted that the issuance of the money commemorating the 75th anniversary of the Indonesian Independence Day had been planned since 2018.
According to the her, the commemorative money is not freely circulated in the public as it was printed only in a limited number.
As it was specially launched to commemorate such a special event as the 75th anniversary of the Indonesian Independence Day, the money was printed not for additional liquidity on financing needs.
The plan and decision on the amount of the special currency have been made under coordination among Bank Indonesia, the Finance Ministry, the State Secretariat Ministry, the Social Affairs Ministry and the heirs of heroes, Sri Mulyani explained.
The heroes whose pictures are posted on the bank note are Indonesian founding fathers first President Soekarno and first Vice President   Mohhammad Hatta.
Meanwhile, Perry Warjiyo said the new money was issued as part of a plan on creating the currency in the 2020 fiscal year to meet the public need based on the law on currency.
The issuance of the new money was also dedicated to Indonesian people and nation, and also became a momentum for the reawakening of Indonesia which continued to advance, he remarked.
The central bank is used to issuing special money on occasions of certain events like the 25th and 50th anniversaries of Indonesian Independence Day and other special events.
Reporting by Indonesia Window