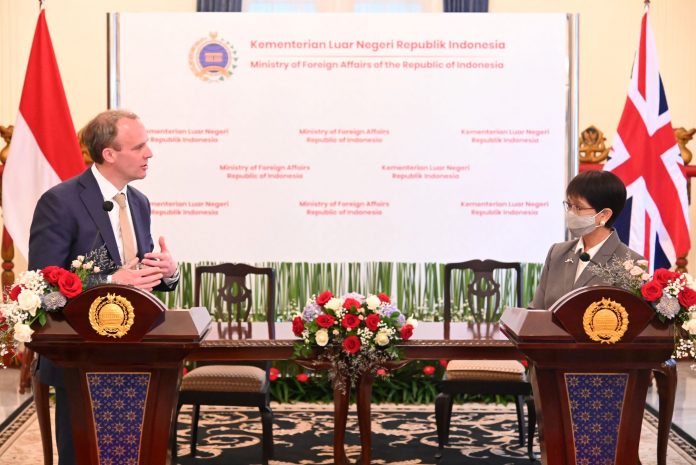 Jakarta (Indonesia Window) – Indonesia and the United Kingdom (U.K.) have agreed to increase cooperation on eradicating terrorism by signing a memorandum of understanding (MoU) on counter terrorism at the 3rd Indonesia-U.K. Partnership Forum held here on Wednesday (Apr. 7).
During the meeting, Indonesian Foreign Minister Retno Marsudi underlined that Britain is Indonesia's strategic partner. The cooperation between the two countries will not only benefit both parties but also the world.
The signing of the MoU was expected to strengthen the cooperation between the two countries on the security sector.
In addition, efforts to increase the bilateral defense cooperation include a Joint Defense Cooperation Dialogue.
"In the future, I hope that Indonesia and the U.K. can enhance the cooperation on the fields of defense industry and human resource capacity, peacekeeping, humanitarian and disaster assistances, and maritime security," the Indonesian foreign minister said.
Besides the bilateral cooperation, Foreign Minister Retno and her British counterpart Dominic Raab also discussed a number of such international issues  as the situations in Myanmar and the Middle East, as well as the preparations for Britain to host COP-19 (climate change) and the Indonesian presidency at the G20.
Regarding Myanmar, both agreed that violence should be stopped immediately to prevent more casualties, and a conducive situation should be built for dialogues.
"We also discussed issues related to the Indo-Pacific, and I reiterate that the implementation of the ASEAN Outlook on the Indo-Pacific is based on such key principles as inclusiveness, transparency, openness and cooperation," Minister Retno said.
Meanwhile, the British Secretary of State, among others, expressed his appreciation to the Indonesian Foreign Minister for playing an active role in promoting equal access to vaccines by becoming the co-chair of the COVAX AMC Engagement Group, and emphasized Britain's commitment to continue to be a trusted partner for Indonesia.
COVAX is a global initiative for equal access to the COVID-19 vaccines.
Raab also underlined that Indonesia and the U.K. have equal interests in various fields, such as in climate change, economic recovery, as well as defense and security.
The Indonesia-U.K. Partnership Forum was held for the first time in 2007, and was chaired by the Indonesian Minister of Foreign Affairs.
The forum is a follow-up to the agreement between the heads of government of the two countries in 2006 to deepen the bilateral cooperation and promote strategic dialogues on global issues.
Reporting by Indonesia Window