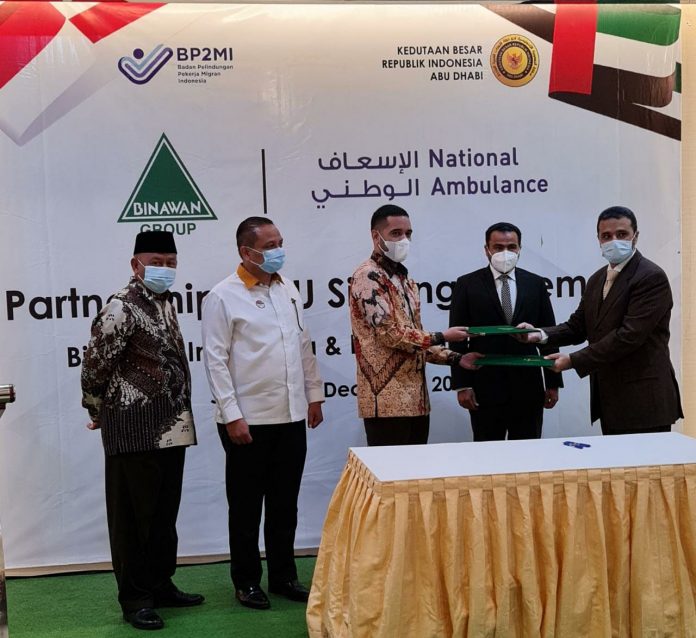 Jakarta (Indonesia Window) – The Indonesian Embassy in Abu Dhabi continues to promote Indonesian nurses to work in the United Arab Emirates (UAE) by signing a memorandum of understanding (MoU) with Indonesia's company Binawan Inti Utama and the UAE National Ambulance at the head office of the Indonesian Migrant Workers Protection Agency (BP2MI) in Jakarta, Tuesday (Dec 15).
The document was signed by Binawan's President Director Said Saleh Alwaini and National Ambulance's CEO Ahmed Saleh Mohamed Ahmed Alhajeri, according to a written statement from the Indonesian Ministry of Foreign Affairs received by Indonesia Window here on Wednesday.
The Agency's Secretary Tatang Budie Utama Razak, Indonesian Ambassador to UEA Husin Bagis, and UAE National Ambulance's Chairman Brigadier Hussain Ahmed Ali Naser Al Harthi witnessed the signing ceremony.
"Currently, there are only 65 Indonesian nurses working in the UAE. With this MoU, I am expecting the number to increase to 1,000 nurses in the next two years," Ambassador Husin said in his remarks.
The Ambassador added that so far, the demand for Indonesian nurses to the UAE was quite high, but it had not been fulfilled due to competency and qualifications reasons.
Meanwhile, the Agency's Head Benny Ramdhani in his virtual speech emphasized that the signing of the MoU has a strategic meaning on the placement and protection of Indonesian Migrant Workers in the UAE, especially those who work in the health sector.
The collaboration between Binawan Inti Utama and an emergency service company under the UAE Ministry of Home Affairs includes the recruitment and training (capacity building) of Indonesian nurses in accordance with international standards.
Binawan Inti Utama also collaborates with the Indonesian National Nurses Association (PPNI) and various other health professional institutions.
The signing of the cooperation document is part of a series of Indonesia-UAE Week which take place on December 15-21, 2020 in Indonesia.
Reporting by Indonesia Window