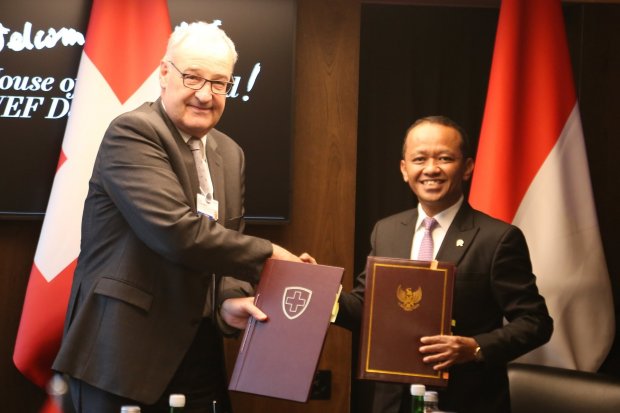 Jakarta (Indonesia Window) – The Governments of Indonesia and Switzerland have signed a Bilateral Investment Treaty (BIT) to provide legal protection and business certainty.
The document was signed by Indonesian Minister of Investment/Head of the Investment Coordinating Board Bahlil Lahadalia and Federal Councilor Guy Parmelin, at the House of Switzerland, Davos, Switzerland, Tuesday (May 24) on the sidelines of the World Economic Forum (WEF) Annual Meeting 2022.
In a written statement received here on Wednesday, Bahlil hoped the agreement could attract more investment from Switzerland to potential and priority sectors in Indonesia.
"We hope that this collaboration can have an impact on increasing Indonesia's competitiveness in attracting investment from Switzerland, as well as opening up opportunities for national businesses to invest in Switzerland," he said.
This agreement was successfully agreed after completing seven rounds of negotiations that began in 2018.
The agreement was made in the context of economic cooperation, especially investment between the two countries by providing legal protection and business certainty for both Swiss investors in Indonesia and Indonesian business actors who wish to invest in this Western European country.
On this occasion, Federal Councilor Guy Parmelin expressed his appreciation for the implementation of this bilateral investment agreement.
"We hope that this cooperation can be well established and produce a positive impact for both parties," Parmelin said.
The scope of the Indonesian-Swiss BIT, among others, applies to investment in both Indonesia and Switzerland; does not apply to claims or disputes that arose before BIT takes effect; and does not apply to government procurement, subsidies or grants provided by the state.
The BIT is expected to provide benefits for investors from both countries in getting a guarantee on non-discriminatory treatments.
This agreement also guarantees that investors will not do business takeovers (expropriation); get the freedom to transfer/repatriate; have the option of resolving disputes through international arbitration.
In addition, the BIT emphasizes that investors should not make investments that violate the law, especially that on corruption.
The BIT will replace the previous agreement which was signed in 1974 and ended in 2016.
The BIT will also complement the Indonesia-European Free Trade Association (EFTA) CEPA agreement signed in 2018 in which Indonesia and Switzerland are parties to the agreement.
Other ASEAN member countries that already have the BIT with Switzerland are Vietnam, Thailand, Malaysia, and Singapore.
The Indonesian Ministry of Investment recorded that Switzerland was in the top 10 highest investment countries in Indonesia in 2021 with investment realization reaching 599.8 million U.S. dollars and 281 projects.
Reporting by Indonesia Window