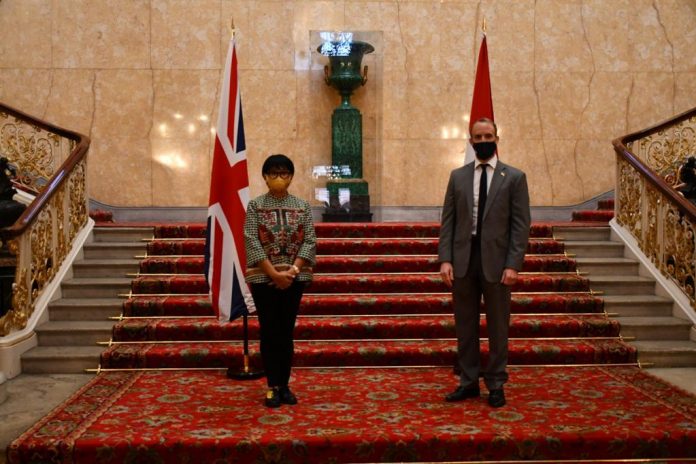 Jakarta (Indonesia Window) – The Indonesian government is concerned about the U.K.'s plan to impose due diligence on the former's several agricultural commodities, including palm oil, coffee, timber and wood products.
"Such a policy on due diligence has the potential to become a non-tariff barrier for Indonesia's exports to the U.K.," Indonesian Foreign Minister Retno Marsudi said in a statement received by Indonesia Window here on Thursday.
Foreign Minister Retno met her British counterpart Dominic Raab in London on Wednesday (Oct 14).
"This is the first in-person meeting after we met virtually at the meeting of the ASEAN Foreign Ministers and British Foreign Minister last September," she said.
Regarding the U.K.'s due diligence plan, she suggested that the two governments discuss the possibility of making mutual recognition on each country's policy on supply chain sustainability.
"Regarding investment cooperation with the UK, I welcome the strong interest of several British investors in the field of renewable energy," Foreign Minister Retno said.
She pointed out that Aggreko, which is headquartered in Glasgow, plans to operate in Indonesia to supply PV (photopholtaics) panels.
In addition, Orbital Marine Power also plans to build a tidal turbine project that will produce 10 megawatts (MW) of energy in eastern Indonesia, and Nova Innovation will build an off-grid tidal turbine.
The UK has been a strategic partner for Indonesia since 2012.
For Indonesia, Britain is the fourth largest trading partner, the first timber trading partner, and the second largest investment partner from Europe.
Reporting by Indonesia Window