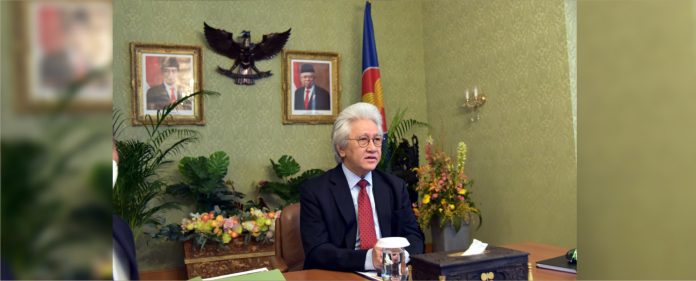 Jakarta (Indonesia Window) – Indonesia has highlighted the importance of enhancing international cooperation in the nuclear field for peaceful purposes, especially food resilience.
"The international cooperation on the field of nuclear technology for peaceful purposes should be continuously strengthened in order to provide people with direct benefits. This can be achieved through nuclear diplomacy for peaceful purposes that supports various strategic sectors of national developments, including food resilience," said Indonesian Ambassador to Austria and the United Nations Darmansjah Djumala in his key remarks at an online seminar entitled Atom for Peace and Development: Grounding Nuclear Diplomacy to Support National Food Security on Wednesday (March 24).
The seminar organized by the Indonesian Embassy in Vienna was participated in by more than 250 people who are national technology practitioners, members of the national nuclear communities, government agencies, and academics from various universities.
Ambassador Djumala described a number of achievements from Indonesia's diplomacy and cooperation in utilizing nuclear technology in the food sector, including the designation of the country as the IAEA (International Atomic Energy Agency) Collaborating Center in nuclear science and application during the 2017-2021 period.
In addition, the use of superior varieties of rice and soybean from radiation mutation research through the IAEA technical cooperation program is increasing in Indonesia.
Meanwhile, Deputy Head of Indonesia's National Atomic Energy Agency for Nuclear Technology Utilization Totti Tjiptosumirat explained about some results of Indonesian nuclear technology researches in the food sector which have been done through collaborative programs with the IAEA.
Totti also showed about Indonesia's commitment to supporting the IAEA program through the NuCaB (Nuclear Capacity Building) program initiated by Indonesia to assist other member countries in increasing human resources capacity in the field of nuclear technology.
Since becoming a member of the IAEA in 1957, Indonesia has been playing an active role in technical cooperation on nuclear technology for peaceful purposes, which is aligned with the national development programs and the Sustainable Development Goals (SDGs).
Reporting by Indonesia Window