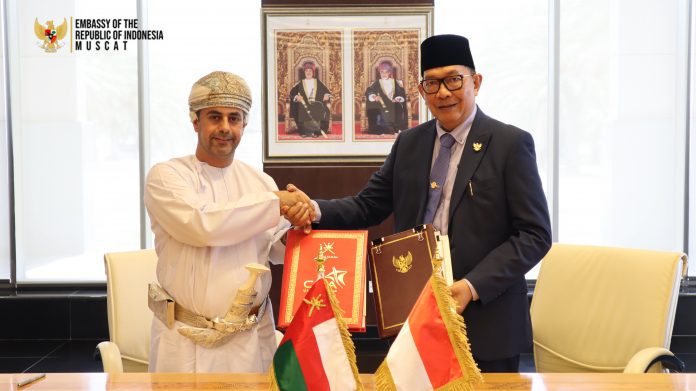 Jakarta (Indonesia Window) – Indonesia and Oman officially signed the Indonesia-Oman Air Transport Agreement (ATA) in Muscat on Wednesday (June 15).
This Air Transport Agreement aims to increase the bilateral connectivity through the development of air transport between and outside the territories of the two countries.
In the signing event, Indonesia was represented by Ambassador the Sultanate of Oman, Mohamad Irzan Djohan, and Oman was represented by the Head of the Civil Aviation Authority of Oman, Naif Ali Hamed Al Abri.
This Air Transport Agreement allows Indonesian and Omani airlines to operate scheduled international air transportation services on routes determined by both countries.
"This air agreement is a legal umbrella for air connectivity that will improve relations between Indonesia and Oman, both people-to-people contact and economic relations," Ambassador Mohamad Irzan Djohan said in his remarks at the signing ceremony which took place at the Civil Aviation Authority (CAA) head office, Oman in Muscat.
Oman is a source of foreign tourists for Indonesia from the Middle East region.
On the other hand, Muscat is an attractive transit city choice for Hajj and Umrah pilgrims, as well as students from Indonesia in the Middle East.
It is hoped that the air transportation agreement will be used by Indonesian airlines to capture a sizable business opportunity along the Jakarta-Muscat route.
The bilateral agreement allows Indonesian airlines to fly directly to cities in Oman such as Muscat, Sohar and Salalah. Meanwhile, Omani airlines are allowed to fly directly to destinations in Indonesia such as Jakarta, Denpasar, Medan, Surabaya, and other cities.
In addition, the agreement in this agreement also covers important aspects of aviation such as aviation safety and security and information exchange.
Air relations cooperation between Indonesia and Oman has been started since 1994. The previous technical arrangements for air transportation were regulated by memorandums of understanding in 1994, 2006 and 2017.
Reporting by Indonesia Window