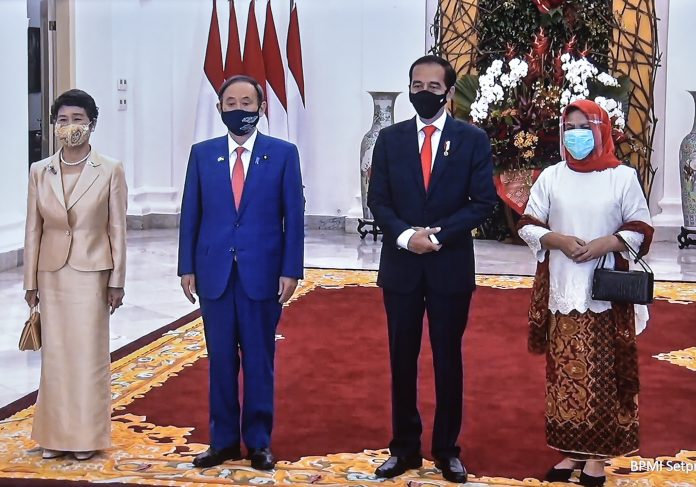 Bogor, W Java (Indonesia Window) – The Indonesian and Japanese governments agreed on a cooperation on the COVID-19 pandemic mitigation, which was confirmed during a bilateral meeting between Indonesian President Joko Widodo (Jokowi) and Prime Minister Yoshihide Suga at Indonesia's Presidential Palace in Bogor, West Java on Tuesday.
In a joint press statement with PM Yoshihide Suga, the president said, from the beginning Japan has been an important partner for Indonesia in mitigating the pandemic, including when evacuating 69 Indonesian citizens working as crew members in the Diamond Princess ship which was anchored at Japan's port of Yokohama on February 3, 2020.
A total of 712 Coronavirus infection cases were confirmed on the ship which carried 2,666 passengers (1,281 of whom were Japanese), as well as 1,045 crew members from 56 countries.
President Jokowi also welcomed the signing of the memorandum on health cooperation between Indonesia and Japan on October 19, 2020.
"Indonesia appreciates Japan's commitment and contributions for establishing the ASEAN COVID-19 Response Fund. I also call on Japan to strengthen health governance in the region to deal with future pandemics, one of which by forming the ASEAN Center for Public Health and Emerging Diseases Emergency," RI's president said.
He added that the visit of PM Yoshihide Suga to Indonesia was a series of his visits after being inaugurated last September, showing the importance of Indonesia and the Southeast Asian region for Japan.
"This also reflects a commitment to continue to strengthen the strategic partnership between Japan and Indonesia," the president said, adding that the visit, which was carried out in the midst of uncertainty over current world conditions, indicated the commitment of the two countries to work together and support each other.
"In a world filled with uncertainty, this visit shows that we choose to work together and support each other," the president said.
PM Yoshihide Suga will be in Indonesia until Wednesday (October 21).
The Japanese PM's visit is the first visit of a head of government to Indonesia during the COVID-19 pandemic.
Reporting by Indonesia Window