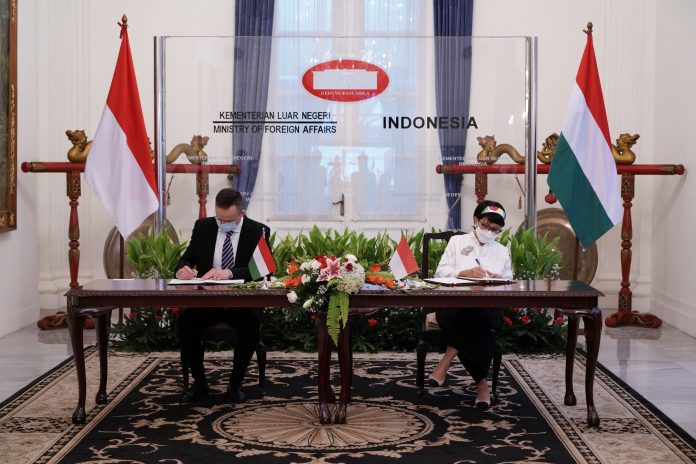 Jakarta (Indonesia Window) – Indonesian Minister of Foreign Affairs Retno Marsudi and Hungarian Minister of Foreign Affairs and Trade Peter Szijjarto signed a Letter of Intent regarding the formation of the Indonesia-Hungary Investment Fund (IHIF) on the sidelines of a meeting here on Tuesday (Feb. 16).
On that occasion, a memorandum of understanding was also inked on increasing the capacity of diplomats, which was an update to the 2013 document.
"The goal of the Indonesia-Hungary Investment Fund is to ensure that there is a source of funding for national strategic projects in the fields of digital infrastructures, clean water treatments, and other public infrastructures," Minisrer Retno said.
One of those strategic projects is the construction of a multi-lane free flow (MLFF) based non-cash toll transaction facility by a Hungarian company which is planned to be built this year.
Another important agreement from the meeting was the support of the Hungarian Minister of Foreign Affairs and Trade to establish a distribution center for Indonesian products in Hungary.
Not only will the center serve the supply chain in the Central European region, but also enhance bilateral trade between Indonesia and Hungary, as well as seven other countries in the region.
The two ministers also discussed efforts to strengthen the digital economy ecosystem in Indonesia through cooperation in the fields of cybersecurity, start-up incubation, fintech (financial technology), and medical technology.
The Indonesian foreign minister also talked about the discrimination of palm oil by the European Union and asked Hungary's support for the ASEAN Joint Working Group on Vegetable Oil which is currently being discussed with the European Union.
Retno also appreciated the EU's stance which always coordinates with the ASEAN (Association of Southeast Asian Nations) regarding the situation in Myanmar, while reaffirming Indonesia's position and support for Palestine.
Hungary is an important partner of Indonesia in Central Europe. Since the opening of diplomatic relations in 1955, the cooperation between the two countries has continued to increase, including in multilateral forums.
During the last five years, bilateral trade between the two countries has continued to upsurge. When the COVID-19 pandemic broke in 2020, trade between the two countries even increased by 13.35 percent. Indonesia's main exports to Hungary are electronic components and natural rubber.
In addition to meeting with the Indonesian FM, Minister Szijjarto also held a meeting with Minister of National Development Planning Suharso Monoarfa, Minister of Trade Muhammad Lutfi, Minister of State-owned Enterprises Erick Thohir, as well as Minister of Tourism and Creative Economy Sandiaga Uno.
Reporting by Indonesia Window