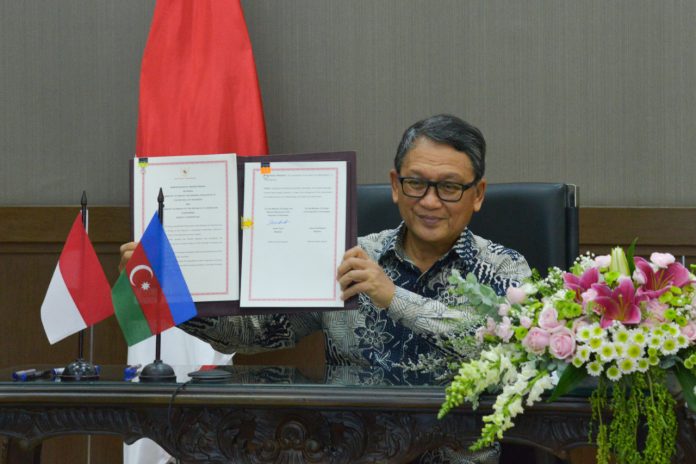 Jakarta (Indonesia Window) – Indonesian Minister of Energy and Mineral Resources Arifin Tasrif and his Azerbaijani counterpart, Parviz Shahbazov, has signed a Memorandum of Understanding (MoU) in the field of energy, virtually from Jakarta and Baku.
The MoU marks a new level of enhanced cooperation in the energy sector between the two countries, Indonesian minister said.
Indonesia and Azerbaijan have agreed to collaborate in the developments of oil and gas, as well as renewable energy in the future.
"I hope that the cooperation in the energy sector between Indonesia and Azerbaijan will develop and improve to a higher level, and will be beneficial for the two countries," Arifin said on Friday (Apr. 30).
He added that the current pandemic, which has caused economic slowdown, was a real challenge, pushing countries around the world to get rid of barriers in the energy sector with innovative and out of the box plans and strategies. One of which is to carry out energy transition.
"I want to emphasize that apart from relying on conventional fuels to secure the distribution chain, Indonesia is currently also committed to implementing an energy transition," Arifin said.
On the same occasion, Shahbazov said that Indonesia and Azerbaijan have oil and gas trade relations that have the potential to be developed.
According to him, Azerbaijan currently has a target to increase the composition of renewable energy in their energy mix, with a target of 1,500 MW (megawatts) or 30 percent of the total electrical installation capacity. This target has been set to attract more investors to Azerbaijan.
"The document that we signed today includes cooperation in the renewable energy sector, as well as various other collaborations in the energy sector. On this occasion, I would like to invite the public and private sectors, as well as potential investors from Indonesia to cooperate in the field of green energy," Shahbazov said.
The memorandum of understanding between Indonesia and Azerbaijan aims to develop and strengthen cooperative relations between the two countries based on the principles of equality and mutual benefit.
In addition, the MoU is expected to promote cooperation in the energy sector through collaboration between the two countries' government sectors, state-owned companies, and private sectors.
Reporting by Indonesia Window