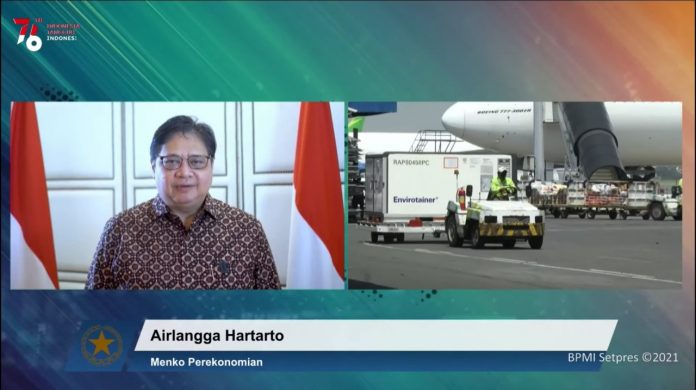 Jakarta (Indonesia Window) – Indonesia received 21.2 million doses of China's Sinovac vaccine in the form of raw materials (bulk) which arrived at Soekarno-Hatta International Airport in Tangerang district, Banten province, on Tuesday (July 27).
The arrival of vaccine in raw materials from Sinovac Biotech Ltd., China, is the 30th stage of the total COVID-19 vaccine received by Indonesia.
In a press statement welcoming the arrival of the Sinovac vaccine, Coordinating Minister for the Economy Airlangga Hartarto said that vaccination was a crucial step to determine the success of joint efforts to get out of the COVID-19 pandemic.
The government always ensures safety, quality, and efficacy for all types of COVID-19 vaccines used in the country.
The Sinovac vaccine has obtained a permit for use from the National Agency of Drug and Food Control (BPOM) as well as recommendations from the Indonesian Technical Advisory Group on Immunization (ITAGI), the World Health Organization (WHO), and other relevant parties.
Furthermore, Airlangga said, to achieve herd immunity against COVID-19, around 208 million Indonesians must be vaccinated.
"The number increased after adding the group of children aged 12-17 years. So far 718 thousand children have received the first doses of vaccination. The sooner, of course, the better," he added.
As of Monday (26/7), the government has implemented a vaccination program for health workers, public workers, the elderly, as well as the general and vulnerable people, with 64.13 million doses of vaccine. This number consisted of 45.5 million first injections and 18.6 million second injections.
"It should be emphasized that vaccination is one of the government's strategies to deal with the COVID-19 pandemic. Vaccination needs to be accompanied by community discipline and must be carried out together," said Airlangga.
The Indonesian government is also committed to increasing the number of testing, tracing, and treatment to reduce the daily spike in cases, as well as extending the implementation of community activity restrictions (locally known as PPKM) until August 2, 2021.
Reporting by Indonesia Window