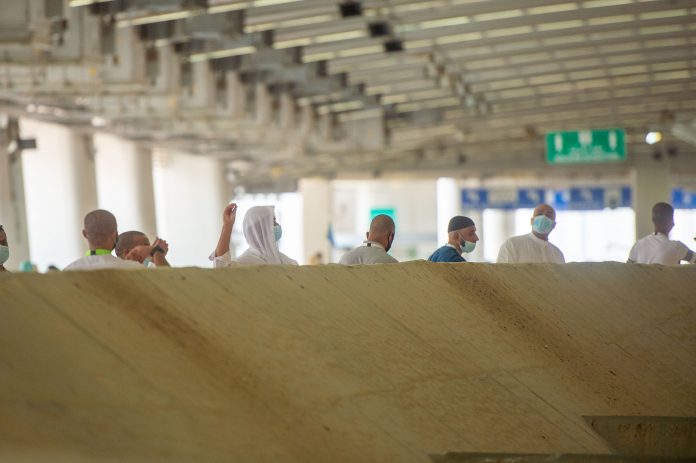 Jakarta (Indonesia Window) – The Saudi Ministry of Hajj and Umrah will start sending text messages to registered recipients between the ages of 41 and 50 to acquire a hajj permit, Arab News reported.
The total number of registered pilgrims reached 558,270 with recipients aged 41-50 making up 20 percent of those approved.
The electronic nomination will be canceled if they fail to complete the procedures within the hours specified for each group. The hajj ministry's website will then electronically nominate one of the pre-registered 550,000 people.
The process will continue respectively to cover the remaining age groups, including those younger than 20 years old, who make up less than 3 percent of the total number of registered people.
The ministry selected Friday midnight (June 25) as the deadline for the completion of the registration procedures for people aged between 51 and 65 years old. People of this age group received text messages asking them to finalize the procedures, choose the desired package, review the terms and conditions and pay for the package within the 10 hours set by the ministry for the issuance of Hajj permits after they meet all requirements.
The terms of the agreement between the two parties, pilgrim and agency, include issuing an identification card for the pilgrims, providing pilgrims with a green wristband with their information, addresses and phone numbers in the holy sites, in addition to the provision of a male doctor and a mini-clinic dedicated to men, along with a female doctor and a mini-clinic dedicated to women.
The institution will provide a guide certified by the authorities and another guide for the Jamarat Bridge to accompany pilgrims during the periods specified in the schedule.
The authorities will adopt a shuttle bus transportation system that will take the pilgrims from the welcome stations at the holy sites, passing by the Grand Mosque to perform the tawaf (circumambulating the Kaaba seven times) of arrival, Mount Arafat, Muzdalifah, the three days of Eid in Mina to conclude with tawaf Al-Ifada.
Among the most significant terms concerning the pilgrims is their commitment to fully pay for the desired package, their adherence to the time slot designated by the agency for the stoning of the Jamarat.
Cancellations must be done through the pilgrim's e-portal. However, per the cancellation policy, they will be subjected to a deduction of up to 100 percent if the cancellation takes place after July 10, 2021, which coincides with the end of the 11th Hijri month; and 40 percent of the total price will be deducted if the applicant cancels before July 3.
If a pilgrim tests positive for coronavirus they are entitled to a full refund excluding bank transfer fees.
Reporting by Indonesia Window