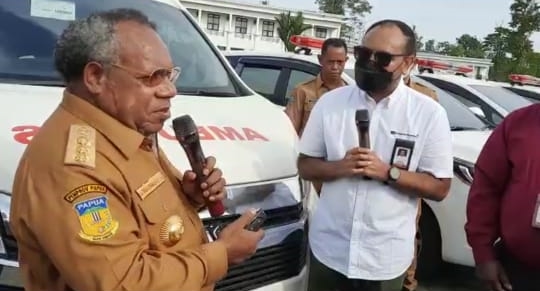 Timika, Papua (Indonesia Window) – A mining company, PT Freeport Indonesia, has donated a number of medical facilities to the Mimika Regency Administration, in Papua province, to support health care programs for the local people.
The facilities in the form of four mini ICU (Intensive Care Unit) ambulances and eight motorbikes for the mobile health center service were handed over by Freeport Indonesia's Director Klaus Wamafma to Mimika's Regent Eltinus Omaleng in Timika, Papua on Monday.
At the handover ceremony, Klaus Wamafma emphasized that the assistance was a collaboration between Freeport Indonesia and the Mimika Regency Government to help the local people obtain adequate health services.
The health assistance will be placed in four Puskesmas (community health centers) in Timika City.
In addition, Freeport Indonesia has also provided electricity and clean water facilities at the Banti Hospital, which is located in the Tembagapura District.
In the health sector, the Mimika Regency administration is currently running the Air Mobile Health Center program in collaboration with the Papuan flight operator, PT Unitrade Persada Nusantara.
Such health services are the first in Indonesia, using a Bell 412 helicopter that flies medical personnel, including doctors and nurses, to a number of health centers in remote areas that are difficult to reach by land.
The helicopter also transports health logistics including patient beds, oxygen cylinders, IVs, medicines and additional foods for pregnant women, infants and toddlers.
Reporting by Indonesia Window