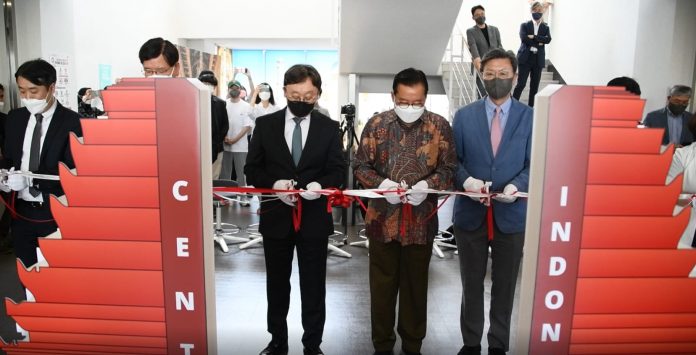 Jakarta (Indonesia Window) – The Indonesian Ambassador to the Republic of South Korea, Gandi Sulistiyanto, inaugurated the first Indonesia Center in South Korea on June 2, 2022.
The Indonesia Center was established at Busan University of Foreign Studies (BUFS) as a form of cooperation between the Indonesian Embassy in Seoul and BUFS, which previously signed a Letter of Intent at the end of December 2021, according to a written statement from the Indonesian Embassy in Seoul received in Jakarta on Tuesday.
In his remarks at the inauguration ceremony, Ambassador Gandi expressed his appreciation to the President of BUFS, Professor Yekyoum Kim, for giving his full support for the establishment of the Indonesia Center.
The ambassador hoped that the Indonesia Center in Busan would be a means of accelerating cultural understanding and encouraging increased cooperation between Indonesia and South Korea.
"I believe that cultural cooperation can contribute to accelerating development in both countries. The existence of the Indonesia Center can be a catalyst for the formation of mutually beneficial cooperation for the two countries to achieve the Sustainable Development Goals," the Indonesian ambassador said.
Various collaborations in the socio-cultural field are expected to be realized in commemorating the 50th anniversary of Indonesia-Korea relations.
The Indonesia Center in Busan will be led by Professor Yekyoum Kim, who is the Dean of the Faculty of Asian Studies and a professor at BUFS.
Prof. Kim is an Indonesianist and has extensive research and study experience in Indonesia.
The Indonesia Center will support various program activities, such as network building, collaboration, and joint research by educational institutions and cultural institutions of Indonesia and South Korea, as well as provincial, district and city governments of the two countries.
"We really appreciate every proposed cooperation with the spirit of synergy and mutual cooperation in developing Indonesia and Korea with the capital of Indonesia's social and cultural wealth," said Prof. Kim.
Prof. Kim also expressed his appreciation for the support from the Indonesian Embassy in Seoul for establishing the Indonesia Center.
The existence of the Indonesia Center, according to him, is in line with the ideals and programs of BUFS, and is expected to invite the opening of more cultural centers from other countries in South Korea.
In its implementation, the Indonesia Center will be under the supervision of a steering committee consisting of the Indonesian Embassy in Seoul and BUFS, as well as an advisory board led by Chang Beom Kim who serves as South Korean Ambassador to Indonesia for the 2018-2020 period.
The Indonesia Center is expected to strengthen people-to-people relations between the two Asian countries in various fields, Ambassador Kim said.
The Indonesia Center at BUFS provides a location for exhibitions of language and literature books, traditional houses and clothes, batik, cultural maps, tourism, nature reserves, Indonesian panoramas, and Indonesian MSME (Micro, Small and Medium Enterprises) products as well as tours of the Trowulan archaeological site by utilizing Virtual Reality (VR) technology.
Reporting by Indonesia Window