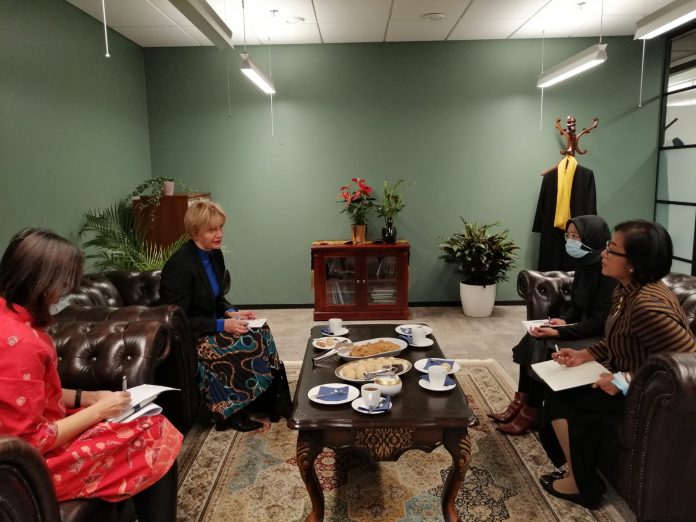 Jakarta (Indonesia Window) – A number of Indonesian Micro, Small and Medium Enterprises (MSMEs) in 2020 receive business funding of nearly two million euros from the Finnish government through the Finnpartnership program.
The business partnership between Indonesian MSMEs and their Finnish counterparts was discussed at a meeting of the Indonesian Ambassador to Finland and Estonia, Ratu Silvy Gayatri, and Finnpartnership's Program Director Birgit Nivala on Friday (Nov 27).
During the meeting, the two parties agreed to promote the establishment of business partnerships between Indonesian and Finnish MSMEs whose businesses have impacts on development which, among others, are related to the Sustainable Development Goals (SDGs), social aspects, environmentally friendly products, and job creation.
The partnership utilizes the Finnpartnership program in the form of business funding and matchmaking services.
According to Nivala, in 2020 Indonesia ranks second, after India, as the country with have the most business partnerships with Finnish MSMEs.
There are six partnerships under Finnpartnership, namely Communication and Information Technology (ICT), services, education, and renewable energy sectors, with funding amount to nearly two million euros, Nivala pointed out.
Finnpartnership is a business partnership program financed by the Finnish Ministry of Foreign Affairs and Finnfund.
The program aims to generate positive development impacts by promoting long-term business partnerships between Finland and developing countries, including Indonesia.
Finnpartnership facilitates business partnerships which were proposed by companies from developing countries to Finnish companies.
By using free matchmaking services, Indonesian MSMEs can also look for distributors or representatives to promote their products in Finland.
Collaborating with Finnpartnership is one of the efforts made by the Indonesian Embassy in Helsinki to increase opportunities for trade cooperation, particularly market penetration for Indonesian export products to the Scandinavian country.
In addition, Finnpartnership is also expected to build a business ecosystem for Indonesian MSMEs to make them ready to compete in the international market, especially in the Nordic region.
For that, Finnpartnership will facilitate Indonesian MSMEs to participate in Habitare, the largest furniture exhibition in Finland, and invite those focusing on food industries to the Gastro Helsinki exhibition. Both events will be held in 2021.
Reporting by Indonesia Window