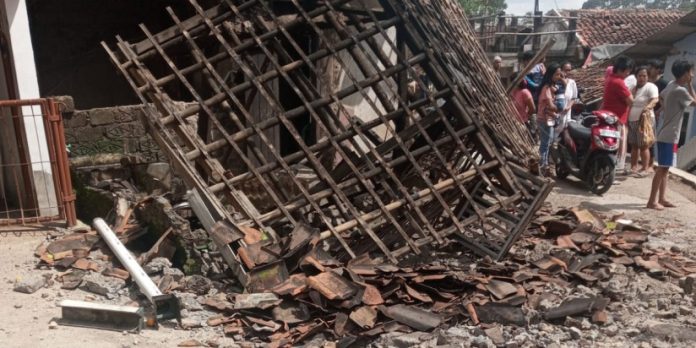 The Cianjur earthquake also caused landslides which have closed cross-provincial roads in the district.
Bogor, W Java (Indonesia Window) – The death toll increased to 62 following the Cianjur earthquake with magnitude of 5.6, according to the latest data from the Operations Control Center (Pusdalops) of BNPB (Indonesia's National Agency for Disaster Countermeasure) on Monday at 7.34 pm local time.
The people killed in the Cianjur earthquake were found in Rancagoong village in Cilau district, Limbagansari village in Cianjur district, and Cugenang district, Acting Head of BNPB's Data, Information and Communication Center, Abdul Muhari, said in a written statement.
It was also recorded that after the Cianjur earthquake, 25 people were still buried under collapsed buildings in Cijedil village, Cugenang district, and 79 others were injured, he said, adding that as many as 5,389 people have been displaced in a number of areas.
In Cianjur district alone 2,272 houses damaged, one Islamic boarding school was heavily damaged and one hospital was slightly damaged. In addition, a number of infrastructures were also reported damaged, including four government buildings, three educational facilities, and one worship facility.
The Cianjur earthquake also caused landslides which have closed cross-provincial roads in the district.
Apart from Cianjur, 46 houses in Bogor district were also damaged after the Cianjur earthquake. In addition, 443 houses in Sukabumi district, and 14 houses in Sukabumi city caved in.
The Regional Disaster Management Agency (BPBD) is still collecting data regarding the number of fatalities and damage to infrastructure.
Some aftershocks were still felt on the ground, although with less strength than the previous earthquake.
The BNPB called on people in Cianjur district and its surroundings to evacuate if they consider their homes are still not safe to live in.
They are advised to remain vigilant for the potential for aftershocks, and keep being updated information from official channels of BNPB, BMKG (Meteorology, Climatology, and Geophysical Agency), BPBD (Local Agency for Disaster Countermeasure), and the local administrations.
On Nov. 22 the Coordinating Minister for Human Development and Culture, the Head of BNPB, the Head of BMKG, and their staff members are expected to closely observe the affected areas in Cianjur.
Reporting by Indonesia Window