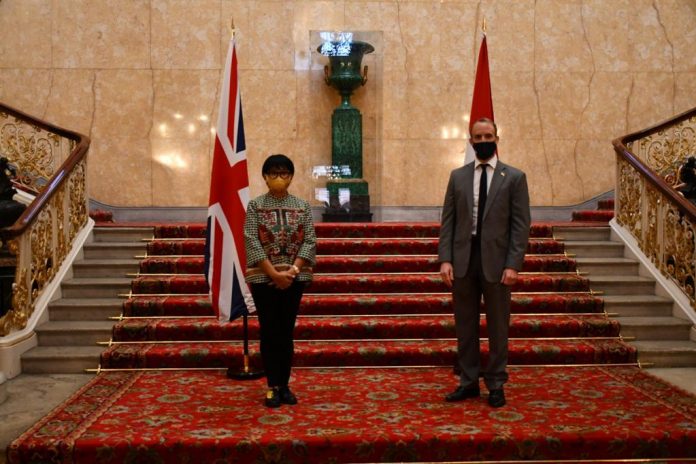 Jakarta (Indonesia Window) – Indonesia and the United Kingdom agreed to cooperate in the COVID-19 mitigation, Indonesian Foreign Minister Retno Marsudi said in a statement received by Indonesia Window here on Thursday.
The agreement was confirmed at a bilateral meeting between Foreign Minister Retno and her British counterpart Dominic Raab in London on Wednesday (Oct 14).
"This is the first in-person meeting after we met virtually at the ASEAN Foreign Ministers and British Foreign Minister meeting last September," Minister Retno said.
In the bilateral meeting, Indonesia and the U.K. agreed to strengthen cooperation both bilaterally and in a multilateral context, she said.
Minister Retno noted that the U.K. government had committed to contribute to the ASEAN COVID-19 Response Fund of one million pounds sterling.
Under bilateral cooperation, Indonesia and the UK have also signed a memorandum of understanding and action plan on Antimicrobial Resistance (AMR) last June, as well as a memorandum of understanding on Research and Innovation Partnership last August.
Antimicrobial resistance threatens the effective prevention and treatment of an ever-increasing range of infections caused by bacteria, parasites, viruses and fungi.
Minister Retno further explained that on the multilateral track, Indonesia and the U.K. have the same commitment to support multilateral cooperation platforms such as WHO, Gavi, and CEPI within the COVAX Facilities framework, especially regarding equal access to the safe and affordable COVID-19 vaccine.
COVAX is the only global initiative working with governments and manufacturers to ensure COVID-19 vaccines are available worldwide to both higher-income and lower-income countries.
COVAX, the vaccines pillar of the Access to COVID-19 Tools (ACT) Accelerator, is co-led by the Coalition for Epidemic Preparedness Innovations (CEPI), Gavi the Vaccine Alliance, and the WHO (World Health Organization).
"The spirit of cooperation is important to be continuously strengthened in the midst of the big challenges, especially during this pandemic," Foreign Minister Retno said.
As members of the U.N. Security Council, Indonesia and the U.K. also agreed to continue to prioritize multilateralism, she added.
Reporting by Indonesia Window