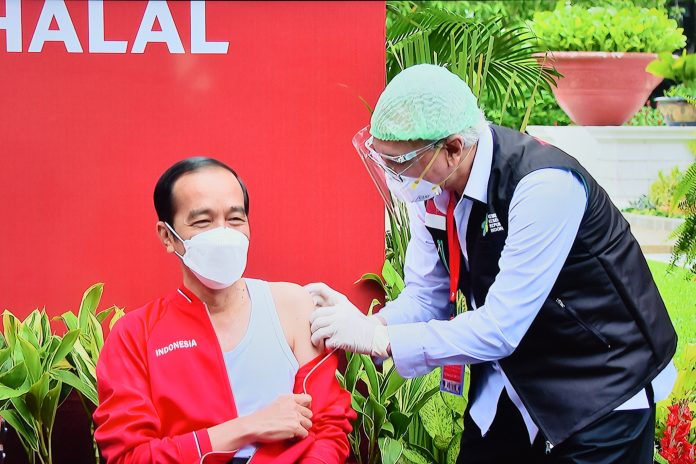 Jakarta (Indonesia Window) – Indonesian President Joko Widodo received a second dose of the COVID-19 vaccine jab at the Presidential Palace, Jakarta on Wednesday, or 14 days after receiving the first dose on January 13.
The president said that the second injection was like the previous one as he did not feel anything.
"Two hours after I got the first injection, I only felt achy. I think the second one is the same. I still can do my activities," he said.
After undergoing a process of observing the possibility of Adverse Event Following Immunization (AEFI) for about 30 minutes, the president continued his activities.
The CoronaVac vaccine produced by China's Sinovac Life Science Co. Ltd, which was inoculated to the president by the Deputy Chair of Presidential Medical Officer, Abdul Muthalib, required two injections of 0.5 milliliters each with a time interval of 14 days.
Government's spokesperson for vaccination, Reisa Broto Asmoro, said the first dose of vaccination aims to introduce the vaccine and its ingredients to the immune system.
The first dose of the vaccine is taken to trigger an initial immune response.
The second dose is inoculated after 14 days from the first dose injection, which aims to strengthen the immune response that has been formed earlier.
"These two injection doses will trigger a more optimal and more effective antibody response in the future," she explained.
Reisa said the antibodies would be optimally produced within 14-28 days after the second injection.
Reporting by Indonesia Window