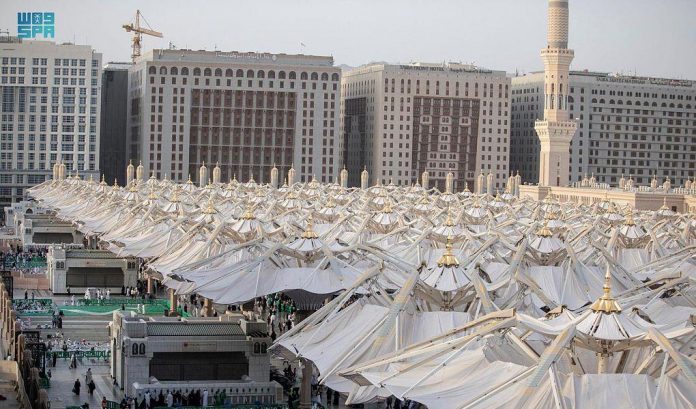 Jakarta (Indonesia Window) – The convertible umbrellas installed in the courtyard of the Prophet's Mosque in Madinah cover an area of 143,000 square meters, shading around 228,000 people.
The large umbrellas are designed with an accurate structure, with each on top of the other. The height of the first umbrella is 14.40 meters and the other 15.30 meters. The height of the umbrella when folded will reach 21.70 meters.
A total of 250 umbrellas are installed at the courtyards of the Prophet's Holy Mosque. They are installed in two phases. The first phase includes 182 umbrellas and the remaining 68 are set up in the second phase.
The umbrellas contain 436 spray fans that are installed at the sides of the umbrellas. Each fan has 16 openings that sprays water, with the fans treating around 200 liters of water per hour.
Umbrellas are provided with water through two stations that purify spray water. The fans moisturize the external air so the guests of the Prophet's Mosque enjoy proper atmospheres. All these procedures are carried out from a main control room that monitor and maintain the umbrellas.
Source: Saudi Press Agency
Reporting by Indonesia Window