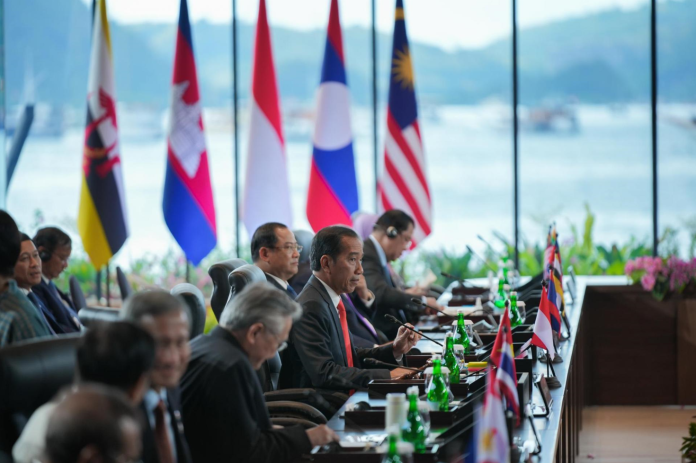 ASEAN, especially the High-Level Task Force, must be ready to face more complex challenges in the future.
Jakarta (Indonesia Window) – Indonesian President Joko Widodo (locally known as Jokowi) has emphasized that ASEAN must be ready to face more complex challenges in the future.
The Indonesian head of state made the remarks when opening the ASEAN Leaders Meeting with the High-Level Task Force on the ASEAN Community's Post-2025 Vision, at the Meruorah Komodo Hotel in Labuan Bajo, West Manggarai district, East Nusa Tenggara province, on Wednesday afternoon.
"I appreciate the hard work of the High-Level Task Force members in the past year, and ASEAN must really be ready to face more complex challenges," he said as quoted by the Indonesian Cabinet Secretariat on its official website on Wednesday.
The president also stressed the important role of the High-Level Task Force in identifying challenges and opportunities for ASEAN in the future and ensuring ASEAN's contribution for the regional and global development.
"We must prepare for the worst, but still hope for the best," he added.
Furthermore, the president stated that the ASEAN Vision 2045 must be more adaptive, future-oriented, and is not routine or just business as usual. Therefore, he expected that the High-Level Task Force could produce transformative and out of the box ideas.
"In our discussion today we will elaborate thoughts that are out of the box and transformative. Therefore, ASEAN leaders will directly hear reports of the High-Level Task Force and plans for the future," he said.
At the ASEAN Leaders' Meeting on the first day of the 42nd ASEAN Summit, President Jokowi also met Malaysian Prime Minister Anwar Ibrahim, Vietnamese Prime Minister Pham Minh Chinh and Timor-Leste Prime Minister Taur Matan Ruak.
In a meeting with Anwar Ibrahim, President Widodo conveyed the importance of the two sides to immediately resolving several areas related to sea and land borders.
During a meeting with Pham Minh Chinh, the two leaders discussed efforts to enhance bilateral trade cooperation.
Meanwhile, Taur Matan Ruak said that his country's presence at the summit was a historic moment that would have a positive impact on the economic and social sectors.
Reporting by Indonesia Window