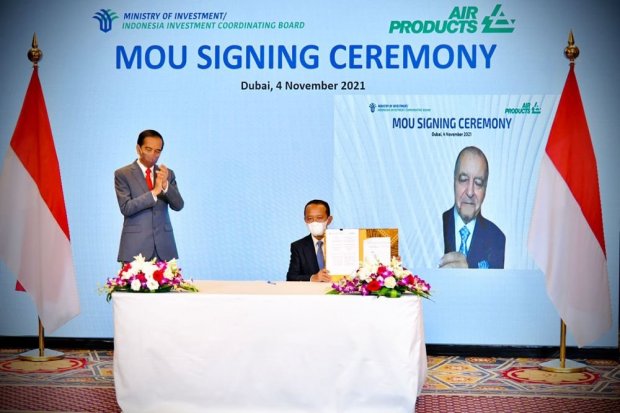 Jakarta (Indonesia Window) – Air Products and Chemicals Inc. (APCI) will invest 15 billion U.S. dollars for the development of the coal gasification industry and its derivatives in Indonesia.
The investment commitment of the U.S. company was confirmed in a memorandum of understanding which was signed by the Indonesian Minister of Investment/Head of the Investment Coordinating Board, Bahlil Lahadalia, and witnessed by Indonesian President Joko Widodo during his visit to the United Arab Emirates, Thursday (Nov. 4).
The investment agreement covers establishing gasification facilities to conserve low-value coal into high-value-added chemical products such as methanol, DME (Dimethyl Ether), and other chemicals.
The cooperation aims to boost the down streaming of natural resources and increase import substitution in the archipelagic country.
Bahlil explained, in the agreement, APCI will work with state-owned enterprises and national entrepreneurs in the islands of Sumatra, Kalimantan, Maluku and Papua, to implement a collaborative and inclusive investment model.
"The realization will start in early 2022," he added.
Meanwhile, President, Chairman and CEO of Air Products and Chemicals Shefi Ghasemi expressed his pleasure at the signing of the MoU.
"This provides even stronger motivation for us to be able to immediately realize investment in Indonesia. Thank you for the full support from the Ministry of Investment. We are ready to follow up immediately," said Ghasemi.
As a concrete step, Air Products also signed a number of MoUs with state-owned enterprises and Indonesian national companies, as follows:
Coal project to Dimethyl Ether (DME) with PT Indika Energy Tbk.
Natural gas to blue ammonia project with PT Butonas Petrochemical Indonesia
Coal project into Dimethyl Ether (DME) with PT Batulicin Enam Sembilan
Coal gasification project for methanol production with PT Bukit Asam
Air Products and Chemicals is a major gas and chemical processing company that was founded in 1940.
Reporting by Indonesia Window