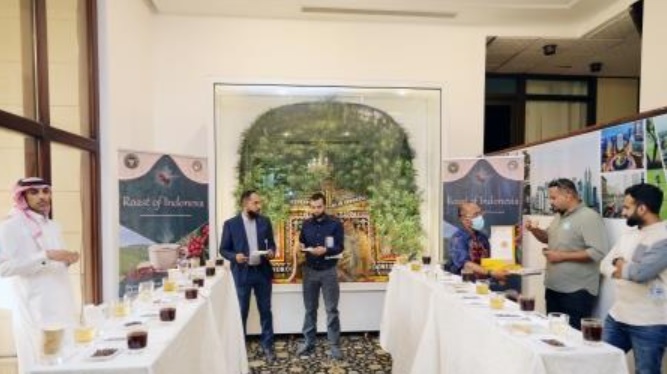 Jakarta (Indonesia Window) – A number of coffee entrepreneurs in Saudi Arabia expressed their admiration for the taste of Indonesian coffee.
That was revealed in the Roast of Indonesia coffee cupping held by the Indonesian Embassy in Riyadh on Friday (Apr. 2).
At that event coffee shop and coffee roaster entrepreneurs in Saudi Arabia assessed tastes and aromas of some types of Indonesian coffee by tasting coffee served by Indonesian professional baristas.
The event was supported by the Association of Indonesian Coffee Exporters (AEKI) which sent samples of six of Indonesia's best coffee beans, namely Argopuro Arabica, Ijen Arabica, Flores Bajawa Arabica, Gayo Arabica, Ulubalu Robusta, and Temanggung Robusta.
CEO of Saudi Artisthub Company Almahroon said that Indonesian coffee has the potential to be marketed in Saudi Arabia. According to him, Argopuro Arabica has a taste that suits the tastes of coffee fans in the kingdom.
Artisthub has even ordered coffee beans directly from farmers in Flores, East Nusa Tenggara.
Artisthub is one of the leading coffee roasters in Saudi Arabia, and is one of the coffee suppliers for cafes in the kingdom.
Considering the enthusiasm of the participants, the Indonesian Embassy in Riyadh will regularly hold similar events in other cities in Saudi Arabia.
Reporting by Indonesia Window