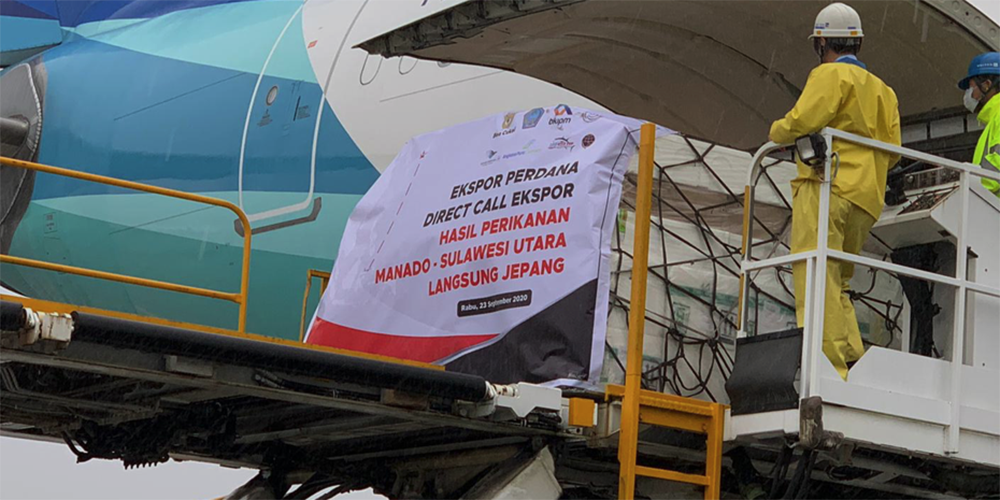 Jakarta (Indonesia Window) – Garuda's maiden cargo flight from Indonesia's Manado city in North Sulawesi landed at Narita, Japan on Thursday (Sep 24) to support exports of Indonesian products in an effort to restore the economy amid the COVID-19 pandemic.
The GA 8800 flight on the Manado-Narita route carried 12.2 tons of cargoes, consisting of fresh tuna from eastern Indonesia, as well as such other commodities as pumpkin and spices, among others turmeric and nutmegs, according to a statement from the Indonesian Embassy in Tokyo.
"This flight is part of an effort to make North Sulawesi the Pacific Gateway of Indonesia, with Sam Ratulangi Airport as a transit hub for fishery products export from North Sulawesi and its surroundings, namely, North Maluku, Papua, Gorontalo, and Maluku provinces," the Chargé d'Affaires of the Indonesian Embassy in Tokyo, Tri Purnajaya, said.
The flight also brought spice commodities to reintroduce some of Indonesia's superior products that have been traded for centuries and have high historical values, he added.
The Indonesian government and the national flag carrier, Garuda, in Tokyo fully support the maiden cargo flight to boost economic cooperation with Japan amid the pandemic.
The cargo flights on the MDC-NRT route are scheduled to operate once a week every Wednesday during September-October, or six times in total.
The Garuda cargo flight is expected to further open up opportunities for export of various Indonesian commodities to Japan.
Reporting by Indonesia Window