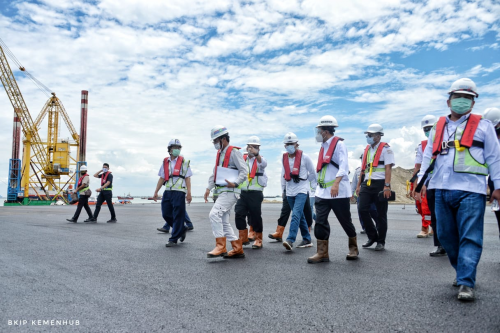 Jakarta (Indonesia Window) – Indonesia's Patimban seaport in Subang district, West Java province, which will start operating in December 2020, is expected to export 600,000 cars by 2025, with a projected total export value of 7.7 billion U.S. dollars.
Director General of Metal, Machinery, Transportation Equipment and Electronics (ILMATE) at the Indonesian Ministry of Industry, Taufiek Bawazier, said there were six companies that would start using Patimban for their business activities.
"Currently, six companies have confirmed that they will immediately use the port after it is inaugurated," he said in a written statement received by Indonesia Window here, Saturday.
He added that Patimban port in supporting the national automotive sector the seaport management should apply Artificial Intelligence (AI) technology in every activity, from product transportation, shipping, custom clearance, to pre-inspection.
The technology is expected to make all operational processes at run smoothly with less or no delays.
"Demand in the automotive sector is related to the smoothness, speed, and safety of goods to be exported. So that the port management is the main actor in supporting productivity," Taufiek said.
He believed that the optimization of the Patimban port would increase the productivity of the national automotive industry.
Patimban port is currently in the process of completing the first phase of construction of a 35 hectare container terminal with a capacity of 250,000 twenty-foot equivalent unit (TEUs) and an automotive terminal covering an area of ​​25 hectares that can accommodate 21,000 completely built up (CBU) cars.
The section that is ready to use is a vehicle dock measuring 350 meters x 33 meters with a capacity of 21,000 CBU. In addition, an 8.2 kilometer long access road from the main highway has also been completed.
In 2021, a 66 hectare container terminal with a cumulative capacity of 3.75 million TEUs and a terminal with a cumulative capacity of 600,000 CBU and a 200 meter RoRo (roll-on/roll-off) terminal will be built.
Reporting by Indonesia Window