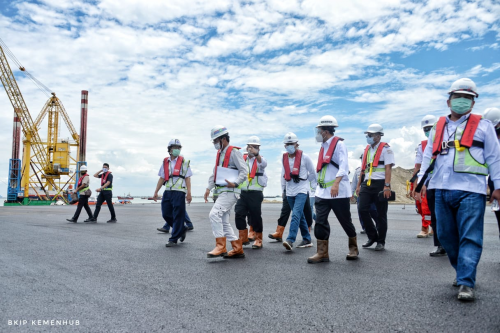 Jakarta (Indonesia Window) – Indonesia's new Patimban seaport in West Java province's district of Subang would start its export and import services in December 2020, according to the State Secretariat on Tuesday.
The Indonesian government remains committed to completing development of all transportation infrastructures including Patimban seaport, which are expected to accelerate the national economic recovery, Indonesia's Transportation Minister Budi Karya Sumadi told a virtual public dialog on Monday (Nov 16).
"In December, Patimban seaport would be operated for the first time as a car terminal for automotive exports and imports, besides further developing the infrastructures in the next phase," the minister said.
He pointed out that the Patimban seaport is now under the completion process of the first phase which is the development of a 35-hectare container terminal with the capacity of 250,000 twenty-foot equivalent units (TEUs) and a 25-hectare automotive terminal with the capacity of 21,000 completely built up (CBU) cars.
The section which has been ready for use is the 350 m x 33 m vehicle wharf with the capacity of 21,000 CBU cars, Budi Karya said, adding that the 8.2 kilometer access road from the main highway has also been completed.
The minister noted that as of 2021, a 66-heactare container terminal with a cumulative capacity of 3.75 million TEUs and a car terminal with a cumulative capacity of 600,000 CBU cars as well as a 200-meter RoRo (roll-on/roll-off) terminal would be built.
"In the long run as of 2027, Patimban would be a big seaport for Indonesia's automotive industry exports and logistics activities which are expected to sharpen Indonesia's competitive edge in the global economy," the minister said.
Reporting by Indonesia Window