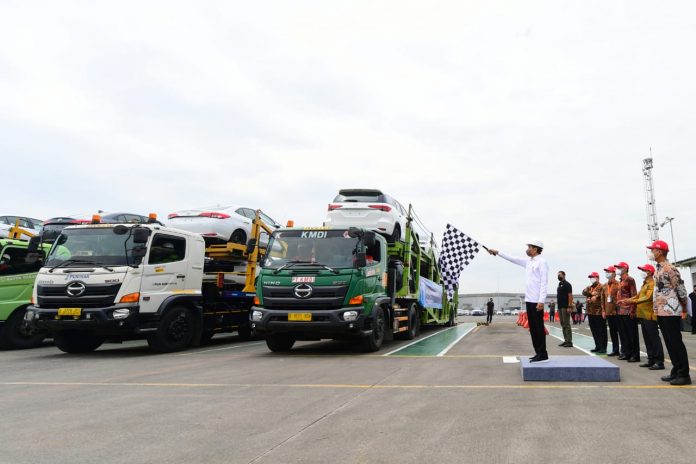 Bogor, W Java (Indonesia Window) – Indonesian President Joko Widodo on Tuesday (Feb. 15) released the first export of Toyota Fortuner cars to Australia, in Karawang district, West Java province.
On this occasion, the head of state appreciated Toyota Motor Manufacturing Indonesia for being able to gain a new export market in the midst of the pandemic.
The success of domestic products in penetrating the export market proves that Indonesian human resources have the ability to produce quality cars, the president said, adding that the level of domestic contents in the cars produced by Toyota has reached over 75 percent.
The car export to Australia is part of the efforts made by Minister of Industry Agus Gumiwang Kartasasmita, who continues to promote car exports to almost 80 countries on four continents.
Agus Gumiwang pointed out that the non-oil and non-gas processing industries recorded the growth of 3.67 percent throughout 2021, higher than that in 2020 which contracted minus 2.52 percent due to the pandemic.
In particular, the automotive industry grew in 2021, reaching 17.82 percent.
Currently, Agus Gumiwang noted, Indonesia has 21 companies engaged in the automotive industry with production capacities of 2.35 million units per year.
The automotive sector also absorbed direct and indirect employment of up to around 1.5 million workers along the industrial chains.
Reporting by Indonesia Window