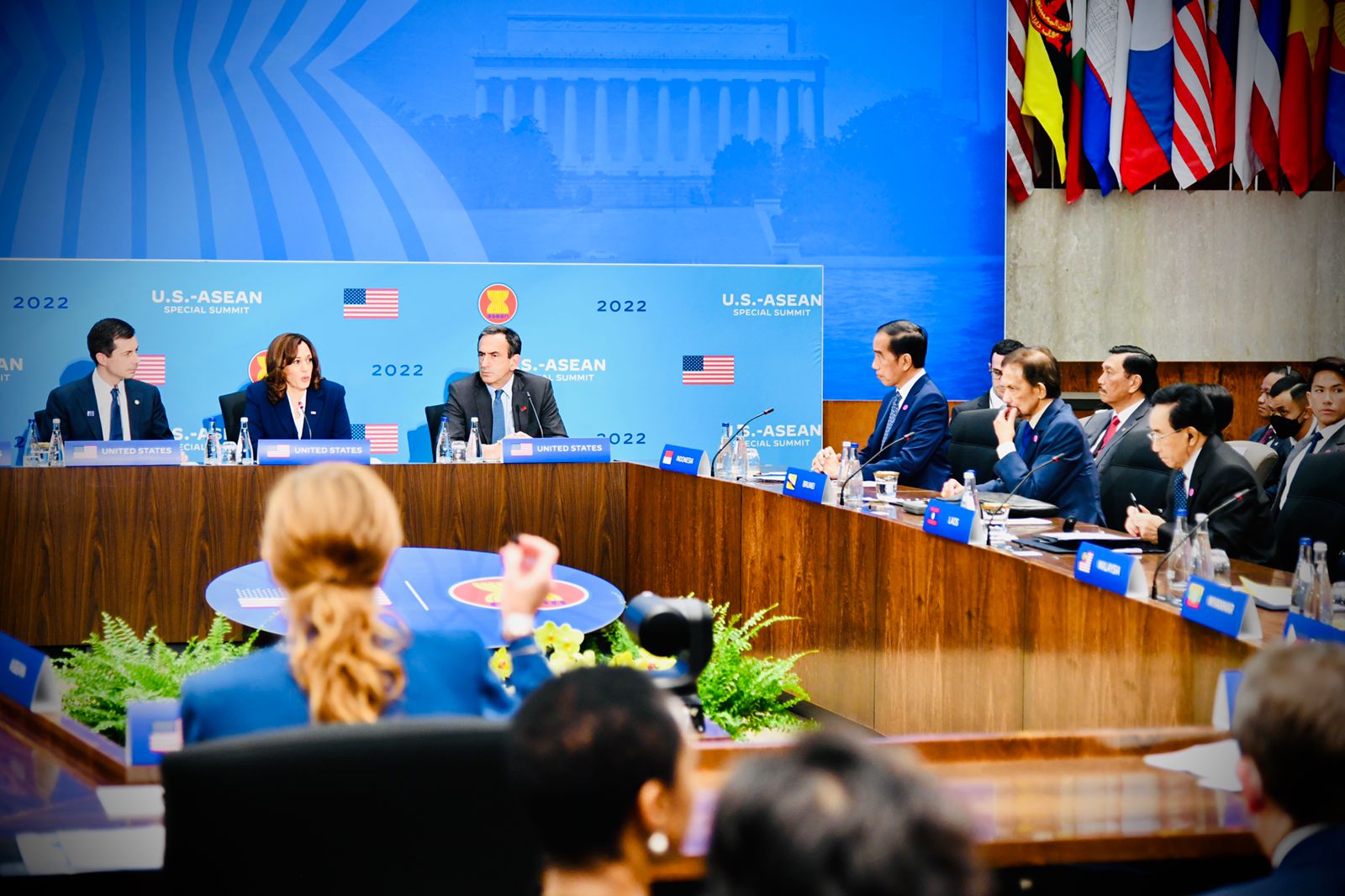 Jakarta (Indonesia Window) – Indonesian President Joko Widodo conveyed three important points related to the climate change in a meeting of leaders of ASEAN countries with U.S. Vice President Kamala Harris, at the U.S. Department of State, Washington DC, Friday (May 13) local time.
"The climate financing must be met, the cooperation in energy transition is strengthened, and the investment in the green economy must be increased," the president said at the meeting, which specifically discussed the issues of the climate change, the clean energy transformation, and the sustainable infrastructure.
Regarding the climate finance, the head of state encouraged the commitment of other developed countries to fulfill all their commitments in achieving the Nationally Determined Contributions (NDC) globally.
According to the president, in the 2000-2019 period, ASEAN only received 56 billion U.S. dollars or about 10 percent of the total climate financing support of developed countries.
"I have to be honest that the commitment of developed countries to implement the issue of climate finance is very low. This condition is an obstacle to achieving the NDC globally," the president explained.
In addition, President Widodo said that ASEAN is committed to increasing the proportion of new and renewable energy from 14 percent in 2018 to 23 percent in 2025.
"This effort requires investment and technology of at least 367 billion U.S. dollars in the clean energy sector. In Indonesia, the energy transition in the next 8 years will require 30 billion U.S. dollars," he said.
During the meeting, the president also conveyed Indonesia's great potential related to the energy transition, namely the potential for renewable energy of around 437 gigawatts both from solar, wind and geothermal energy, which currently only reaches 0.3 percent of the total potential.
"Indonesia also has great potential as a hub for the development of the electric vehicle ecosystem in the region, which we will need in the next five years," he added.
Meanwhile, regarding the green economy investment, he noted the potential for great economic opportunities in developing a green economy, and therefore, a mechanism is needed to bring together not only the government sector but also the business entity.
"Investment in the green infrastructure sector can become an important element of the ASEAN-U.S. collaboration which will require at least 2 trillion U.S. dollars in the next decade," the president said.
Also attending the meeting were the U.S. president's special envoy for climate John Kerry, U.S. Secretary of Energy Jennifer M. Granholm, and U.S. Secretary of Transportation Pete Buttigieg.
On the occasion, President Widodo was accompanied by Coordinating Minister for Maritime and Investment Affairs Luhut Binsar Pandjaitan, Minister of Foreign Affairs Retno Marsudi, Minister of Investment/Head of the Investment Coordinating Board Bahlil Lahadalia and Indonesian Ambassador to the U.S. Rosan Roeslani, while Minister of Trade Muhammad Lutfi attended an event in a separate room.
Reporting by Indonesia Window