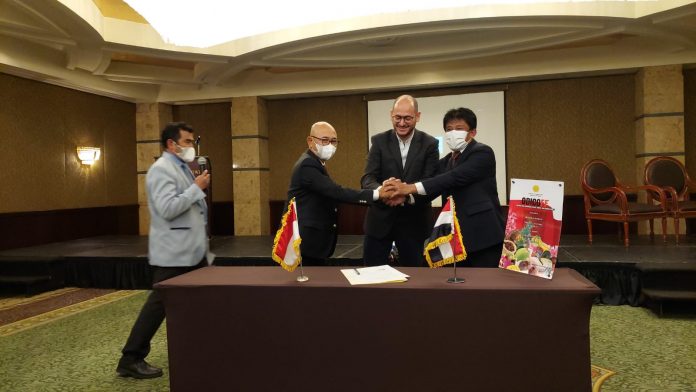 Jakarta (Indonesia Window) – A number of Indonesian and Egyptian companies signed a cooperation worth 23.1 million U.S. dollars at the One Day Indonesian Coffee, Fruits and Floriculture (ODICOFF) exhibition under a theme 'Indonesian Agriculture Products Going Global' in Cairo on Wednesday (Dec. 1).
The cooperation documents were signed by leaders of Golden Coffee Bean Indonesia and Haggag for Import & Export Co. Egypt; Taman Delta Indonesia and Seven Spices Egypt; Asal Jaya Indonesia and Super Star Trading Company Egypt; as well as Asal Jaya Indonesia and Zahret El Bon El Brazili Egypt.
The cooperation includes the supply of Indonesian agricultural products to Egypt, especially coffee beans.
The Ad Interim Charge d'Affaires of the Indonesian Embassy in Cairo, M Aji Surya, pointed out that since the last five years the total bilateral trade value between the two countries has always reached more than 1 billion dollars.
In 2021 the January-August period, the total trade value between the two countries even increased 47.5 percent to 1.12 billion dollars, compared to the same period in 2020 of 761 million dollars.
According to Aji Surya, during the pandemic period in 2021, the value of Indonesia's exports to Egypt increased by 46.7 percent, and Egypt's exports to Indonesia rose 53 percent with the two countries' main export commodities being the agricultural sector.
Meanwhile, the Head of the Indonesian Agricultural Quarantine Agency, Bambang, said that Egypt is a hub for Indonesian commodities entering the African market.
Indonesia's exports of agricultural products and processed foods to Egypt currently account for more than 60 percent of the total national export value to the northern African country.
Crude palm oil, coffee, cocoa, spices, and coconut are Indonesia's main agricultural export commodities to Egypt with a total value of 767.5 million dollars.
Bambang explained that ODICOFF aims to promote Indonesia's leading agricultural products, particularly specialty coffee, tropical fruits and ornamental plants.
In addition, he also invited Egyptian investors to explore investment opportunities in the agricultural sector in the archipelagic country, because Indonesia has large agricultural lands and could be developed for agricultural products that are most needed in Egypt.
ODICOFF is a program of the Indonesian Ministry of Agriculture to promote Indonesian agricultural products to ten main export destination countries.
Besides Egypt, ODICOFF is also held in the United States, the Netherlands, Brazil, Denmark, Morocco, Serbia, Spain, Turkey and the United Arab Emirates.
On the sidelines of the visit to Egypt, the Indonesian Ministry of Agriculture delegation also met a number of potential buyers, including the Lulu Hypermarket modern market.
Reporting by Indonesia Window