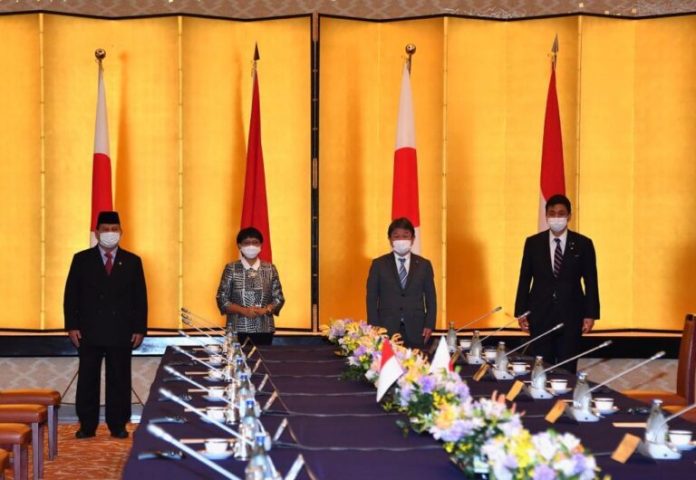 Jakarta (Indonesia Window) – The Indonesian and Japanese governments have signed an agreement for the transfer of defense equipment and technology.
The signing was carried out during an honorary visit of Indonesian Foreign Minister Retno Marsudi and Defense Minister Prabowo Subianto to Japanese Prime Minister Yoshihide Suga, in Tokyo on Tuesday (March 30).
The Japanese PM welcomed the honorary visit of the two ministers, hoping that the agreement would become the basis for deeper cooperation on security between the two countries.
Meanwhile, Foreign Minister Retno Marsudi said, in a meeting with PM Suga, she emphasized the importance of following up on the agreement that was made at the meeting between Indonesian President Joko Widodo and PM Suga in Indonesia in October last year.
"On the courtesy visit to PM Suga together with the Indonesian Minister of Defense, we conveyed the Indonesian President's message regarding the importance of the two countries following up on the cooperation discussed during PM Suga's visit to Indonesia, including in the investment sector," FM Retno said.
During the visit to Japan, the Indonesian Foreign Minister also met with a number of Japanese officials, including the Minister of Foreign Affairs, the Minister of Defense, and the Minister for State Administrative Reforms, as well as the Chairperson of the Nippon Foundation and Japanese Special Envoy for National Reconciliation in Myanmar.
According to Foreign Minister Retno, the cooperation between Indonesia and Japan in the health sector has begun.
The two countries are also committed to strengthening economic cooperation in the investment sector, and solving various trade challenges.
Regarding regional and international issues, the Indonesian Foreign Minister emphasized the importance of all countries to advance cooperation in order to create stability, peace and prosperity throughout the world.
"Cooperation and peace are needed for the world to come out of the COVID-19 pandemic together and jointly carry out economic recovery," she said.
Reporting by Indonesia Window