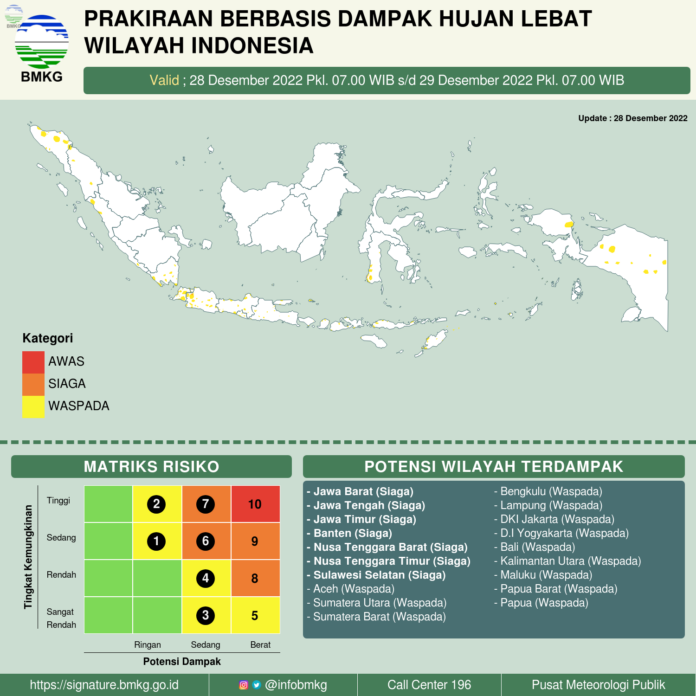 Extreme weather may bring about hydrometeorological disasters in the forms of floods, inundations and landslides.
Jakarta (Indonesia Window) – Indonesia's Meteorology, Climatology and Geophysics Agency (BMKG) issued a press release on the potential for extreme weather in parts of Indonesia for the next two days (December 28-30, 2022).
Extreme weather may bring about hydrometeorological disasters in the forms of floods, inundations and landslides.
Based on the Impact-Based Forecast (IBF), the areas declared an *Alert* status during those dates are parts of Banten Province, West Java Province, the Capital City of Jakarta, Central Java Province, East Java Province, West Nusa Tenggara Province and East Nusa Tenggara Province.
"Those areas are predicted to experience heavy rains which have the potential to cause hydrometeorological disasters," BMKG's Head Dwikorita Karnawati said here on Wednesday (28/12).
The impacts that can occur, Dwikorita said, include the potential for the volume of river flow to increase drastically so that it can cause potential flooding and flash floods.
In addition, it is highly probable that the heavy rains would result in potential landslides, rock falls, or soil erosion, especially in upland areas, hillsides and mountains.
Therefore, BMKG calls on local governments and people who live along river basins and hilly areas to be more vigilant and increase preparedness, especially if heavy rains occur for a long time, she said.
"I call on the public to be careful when doing activities outdoors. If there is no urgent need, then it's better to stay at home waiting for the weather to return to normal," she added.
Meanwhile, BMKG's Deputy Meteorology Guswanto explained that this extreme potential is triggered by the active dynamics of a number of phenomena in the atmosphere around Indonesia which have significant potential for increasing rainfalls in several areas.
Among them are an increased activity of the Asian Monsoon which can significantly raise the growth of rain clouds in the western, central and southern parts of Indonesia.
In addition, he said, the increasing intensity of the cold surge phenomenon accompanied by the potential for equatorial cross-flow so that the flow of cold air masses from Asia into the Indonesian territory can also increase the growth of rain clouds, especially in western and central parts of the country.
Other atmospheric dynamics are indications of the formation of a low pressure center around Australia, which can trigger an increase in the growth of quite massive convective clouds and has the potential to cause high intensity rains, increase in surface wind speed and wave height in the surrounding waters, he noted.
Another significant phenomenon, he added, is the Madden Julian Oscillation (MJO) phenomenon which is active simultaneously with the Kelvin and Equatorial Rossby wave phenomena, in which these conditions contribute significantly to increased rainfalls in several regions of Indonesia, especially in the central and eastern parts.
"We call on the public not to panic but remain alert, and continue to monitor information on weather developments and extreme weather early warnings from BMKG. Prune fragile tree branches and strengthen stands/poles so they don't collapse in strong winds," he said. concluded.
Reporting by Indonesia Window