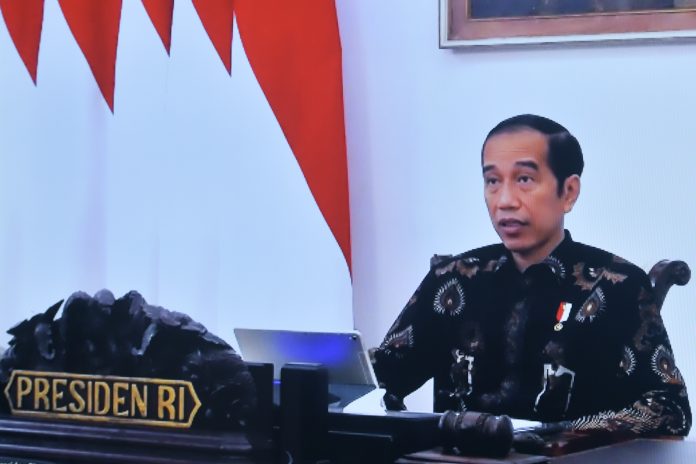 Jakarta (Indonesia Window) – Indonesian President Joko Widodo (Jokowi) has called for the priority of the COVID-19 mitigation within two weeks in 12 districts/cities where more than 1,000 people are infected by the novel Coronavirus.
"I ask for the priority in 12 cities/districts which have more than 1,000 people infected by the COVID-19 and contribute 30 percent to the total national active cases," the president said in a limited cabinet meeting at the State Palace here on Monday.
The 12 districts/cities are Central Jakarta, East Jakarta, West Jakarta, South Jakarta, North Jakarta, Ambon (in Maluku province), Bogor, Depok, Bekasi (in West Java province), Jayapura (Papua), Padang (West Sumatra), Pekanbaru (Riau).
The national COVID-19 mitigation in Indonesia continues to show improvement, the president said, adding that the recovery rate of the COVID-19 patients as of October 11, 2020, reached 76.48 percent, or better than the world recovery rate which was recorded at 75.03 percent.
The COVID-19 mortality rate in the country reached 3.55 percent, a decline compared to 3.77 percent two weeks ago, the president noted, admitting that the death tally in Indonesia was still higher than that of the world, which was recorded at 2.88 percent.
In addition, the head of stated also called on relevant authorities to keep improving the COVID-19 pandemic mitigation in eight priority provinces.
The eight provinces that significantly contribute to the number of active cases in Indonesia are Jakarta, West Java, Central Java, East Java, North Sumatra, South Sulawesi, South Kalimantan and Papua.
Jokowi noted that based on the report he received, of  the eight priority provinces, East Java and South Sulawesi had shown improvements in the COVID-19 mitigation.
Reporting by Indonesia Window