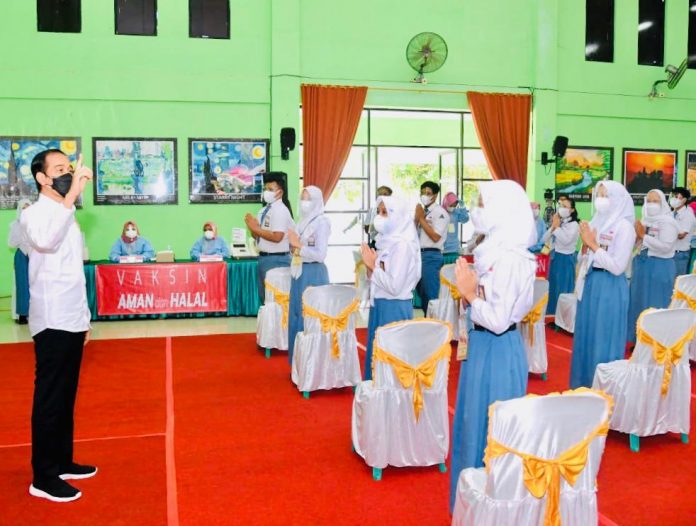 Jakarta (Indonesia Window) – Vaccinations against COVID-19 for the second doses in Indonesia have covered 37,648,033 people, including 788,632 who received the second injections on Friday (Sep. 3).
Data from the Indonesian Ministry of Health received here on Friday afternoon showed that there were additional 1,152,072 people who received the first doses, bringing the total recipients of the first injections to 65,894,673 people.
Meanwhile, the number of the third dose recipients, which is still reserved for health workers, has reached 694,662 people, including 32,721 who received the booster shots on Friday (Sep. 3).
The Indonesian government has targeted 208,265,720 people to be vaccinated in order to achieve herd immunity against the COVID-19 that attacks the respiratory system.
So far, 3,823,324 elderly people have received complete vaccinations, out of 21,553,118 targeted people.
Meanwhile, 19,947,133 public workers have received two doses of the COVID-19 vaccines from a target of 17,327,167 people.
Based on the categories of the vulnerable and the general public, as many as 9,984,582 have undergone complete vaccinations from the target of 141,211,181 people.
Under the 12-17-year age group, which started to be vaccinated in July 2021, as many as 1,893,080 people have received two jabs of the COVID-19 vaccines from the target of 26,705,490 people.
As of Friday (Sep. 3), the cumulative number of novel coronavirus infections in Indonesia has reached 4,116,890 with a total death of 134,930 cases.
Reporting by Indonesia Window