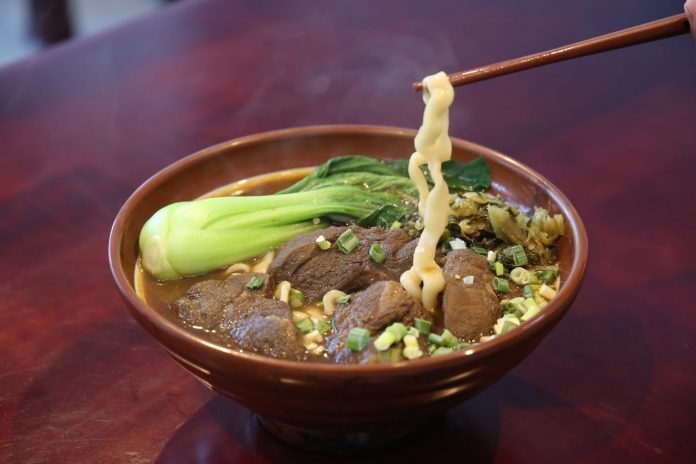 Jakarta (Indonesia Window) – An unofficial of information tells that after the civil war between the Kuomintang and Communists in 1949, the Taiwanese government established military villages.
The villages consist of settlements built for officers and military soldiers along with their families who came from the mainland China.
Since the villagers came from various provinces in China, they brought flavors of their hometown into the meals, creating Taiwanese beef noodle soup that highlights the authentic tastes of Sichuan or Shandong (the names of provinces in China).
However, Taiwan beef noodle soup is unavailable in Sichuan or Shandong provinces, indicating that this food was created by the creativeness of Taiwanese people, and therefore it is easily found in many restaurants on the Formosa Island.
Flavors and prices
The most famous Taiwanese beef noodle soup is known as hongshao beef noodle.
Hongshao means cooked by adding soy sauce and bean paste which makes the noodle soup reddish brown.
In addition, the delicious taste of the noodle soup comes from beef tendons which are usually simmered for several hours along with beef bones and onions, anise, pepper, soy sauce, chili bean sauce, and other spices.
Homemade chewy noodles and green vegetables complement hongshao beef noodles as a traditional Taiwanese dish that should be on the list of every traveller visiting the Formosa Island.
Those who like it spicy can add chilies, peppercorns, and spicy oil to make that Taiwanese national dish yummier.
In addition to being served with Hongshao flavor, Taiwanese beef noodle soup can also be served with clear broth that is cooked without adding chili bean sauce, soy sauce, and other flavoring ingredients.
An internationally renowned food guide, Bib Gourmand, includes some of Taipei beef noodle soup-serving restaurants on its recommendation.
There are many halal restaurants in Taiwan that have been in beef noodle soup business for decades, with clear broth beef noodle soup as their bestseller.
One bowl of delicious Taiwanese beef noodle soup can be enjoyed from only 100 New Taiwan dollars (some 3.41 U.S. dollars) to 10,000 New Taiwan dollars (some 340.6 U.S. dollars).
A bowl of the beef noodle soup at the fantastic price is made with four types of meat, namely rib wagyu class, rib prime class, beef rib, and rib veins.
The duration of cooking the noodle soup can be three days to one week.
The best quality of beef noodle soup has attracted Michelin chefs and food lovers around the world to come to Taiwan to enjoy the Taiwanese daily dish.
The CNN has specifically covered that high-quality beef noodle soup in Taiwan.
Taiwan beef noodle soup is so special that the Taipei city administration has been holding a beef noodle festival for years, featuring a competition among restaurants for serving the best dish.
Every year, the winning restaurants attract long lines of buyers, including foreign tourists, inspiring many others to develop new and unique beef noodle soup recipes to get the most delicious dish.
Source: Taipei Economic and Trade Office (TETO)
Reporting by Indonesia Window