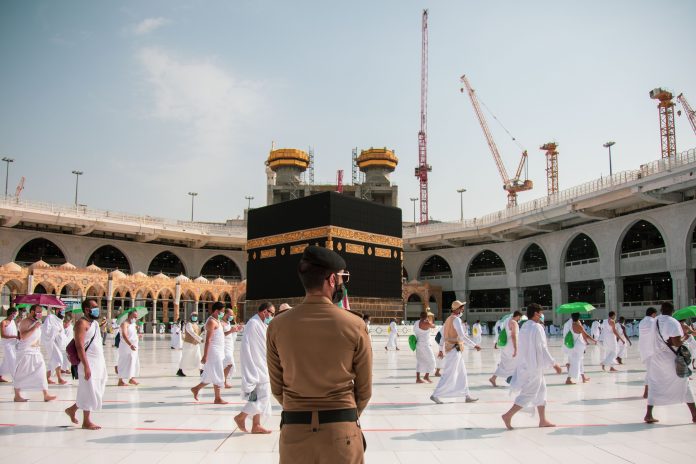 Jakarta (Indonesia Window) – Pilgrims should wait 14 for days before booking another date for umrah (the minor hajj ritual) via I'tamarna app will be launched on Android soon, the Saudi Ministry of Hajj and Umrah said.
"Pilgrims can perform umrah twice, but must wait for 14 days before performing umrah the second time, to give a chance to everyone to perform umrah in line with the necessary precautionary measures brought about by the Coronavirus," Dr. Amr Al-Maddah, the ministry's chief planning and strategy officer, told Arab News.
The ministry is studying the available spots that can be used by the pilgrims to perform umrah while maintaining social distancing, ensuring health protocols.
Al-Maddah pointed out that so far 35,000 people have been registered to perform umrah.
Pilgrims are expected to perform umrah on October 4 when the first stage of the umrah resumes.
In the first phase, pilgrims will perform umrah at six different times a day, giving each pilgrim three hours.
Al-Maddah said between the sunset and evening prayers, pilgrims will not be allowed to perform umrah as this period will be allocated to cleaning and disinfecting.
"Pilgrims will start performing umrah at midnight, with the place disinfected before the arrival of each group," he said.
Each group will be accompanied by supervisors who will ensure pilgrims respect social distancing and follow instructions and a pre-adopted timeline.
Isolation rooms will be provided at the central area's hotels to handle any potential cases.
The second stage, scheduled to start two weeks later, will be preceded by a comprehensive assessment of the first stage to address any shortcomings.
"The kingdom is adopting extra vigilance during the hajj and umrah seasons to protect Muslims around the world and allow them to perform their pilgrimage in ease and peace in line with precautionary measures," Al-Maddah said.
"The three-stage plan will provide feedback on pilgrims' commitment to protocols and adjustment to current circumstances."
He said that the app was supposed to be launched earlier, but was delayed due to Android policies.
The app was presented to both Apple and Android at the same time, but Apple completed the procedures earlier, he added.
Meanwhile, the Minister of Islamic Affairs, Call and Guidance, Dr. Abdullatif bin Abdul Aziz Al Al-Sheikh, announced the ministry's readiness to receive umrah pilgrims in all Miqats (time and location to make intention to start hajj and umrah) in accordance with health protocols.
Reporting by Indonesia Window