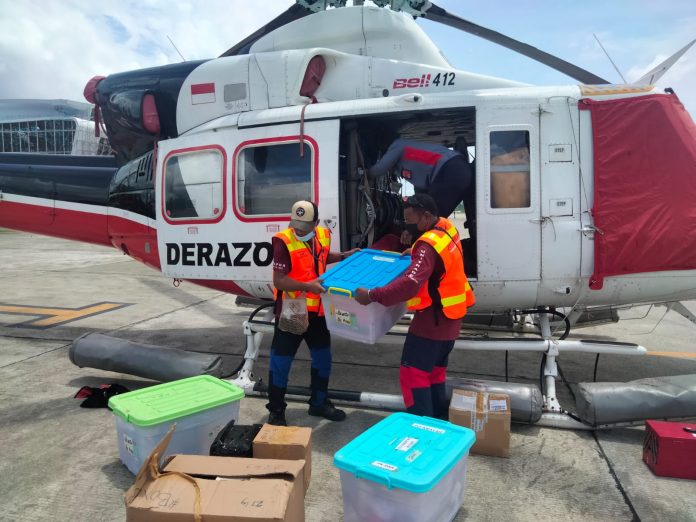 Bogor, W Java (Indonesia Window) – Flight operator Unitrade Persada Nusantara (UPN) in Indonesia's Papua province will operate a Bell 412 helicopter with a capacity of almost two tons to support the health mission of the Mimika district administration.
"The Bell 412 helicopter, which will be operated by Unitrade, arrived in Mimika Baru sub district, Mimika district, on Saturday (March 26)," UPN's Corporate Secretary Aryson Mirino told Indonesia Window by WhatsApp on Sunday (March 27).
He noted that the helicopter with the PK-DAR registration number would support the mission of the Air Mobile Health Center by the Mimika district administration, covering central mountains areas of ​​Indonesia's easternmost province of Papua which are difficult to reach by land.
The first air ambulance flight, Aryson added, would be carried out on Monday (March 28) with a destination of Tsinga sub district in Tembagapura district, about 40 minute flight from Mimika Baru.
So far, there is no detailed information regarding the flight agenda of the Air Mobile Health Center, but he said that the helicopter operated by Unitrade would carry logistics for medical personnel who serve at the Tsinga Health Center for two months before being replaced by the next team.
"There are four medical teams on duty at each Air Mobile Health Center, including doctors," Aryson said.
Earlier, head of Mimika Health Office Reynold Ubra said that the Air Mobile Health Center would serve five health centers in the central highlands of Papua.
In addition to supporting Mimika district's health mission, Unitrade Persada Nusantara, which was established and operated by native Papuans, also supports the government in transporting and distributing materials for the Base Transceiver Station (BTS) infrastructure development project of the Ministry of Communications and Information Technology in Papua, especially in the central highlands.
Reporting by Indonesia Window