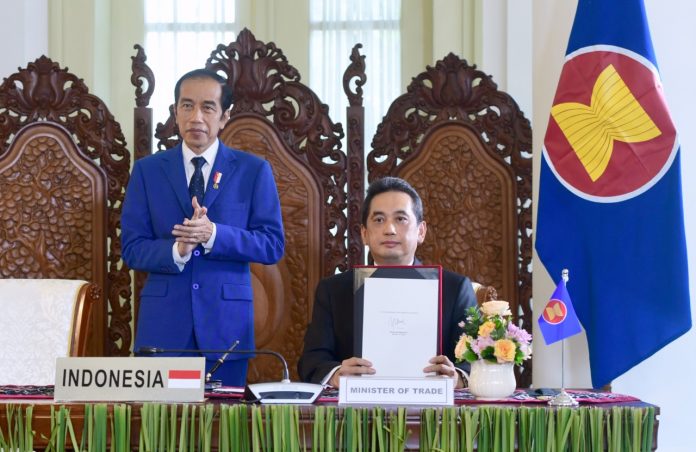 Bogor, W Java (Indonesia Window) – Indonesia's exports to the Regional Comprehensive Economic Partnership (RCEP) countries have shown a positive trend of 7.35 percent over the last five years.
"In 2019, the total non-oil and gas exports to the RCEP represented 56.51 percent of Indonesia's total exports to the world, which was recorded at 84.4 billion U.S. dollars. Meanwhile, Indonesia's imports from RCEP represented 65.79 percent of the country's total imports globally, valued at 102 billion U.S. dollars," Indonesian Trade Minister Agus Suparmanto said after signing the RCEP document at the Bogor Palace, West Java on Sunday.
Agus explained RCEP is a courageous idea initiated by Indonesia which aims at maintaining ASEAN centrality in entering the global supply chain more deeply.
The agreement, he pointed out, was a long process of 31 rounds up, involving ministerial level meetings, both in caucus and plenaries formats.
"Our hard work for eight years resulted in an agreement of 14,367 pages, which is divided into 20 chapters, 17 annexes, and 54 schedule commitments that bind 15 participating countries without requiring a single side letter," Trade Minister Agus noted.
"Hopefully the RCEP agreement can be a catalyst for Indonesia to enter into the global value chain more deeply and help accelerate the national economic recovery after COVID-19," he said.
Reporting by Indonesia Window