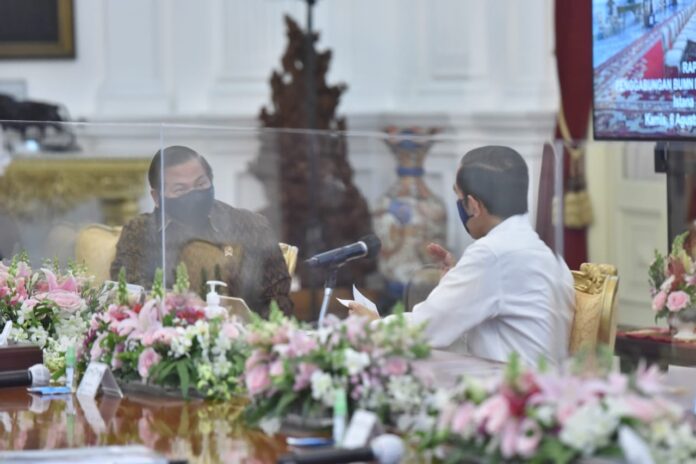 Jakarta (Indonesia Window) – Indonesia has eight airports which are potential to be international hubs or super hubs, President Joko Widodo (Jokowi) said at a limited cabinet meeting at the State Palace here on Thursday.
The eight airports are the Ngurah Rai airport in Bali province, the Soekarno-Hatta airport in Banten province, the Kualanamu airport in North Sumatra province, the Yogyakarta airport in Yogyakarta province, the Sepinggan airport in East Kalimantan province, the Sultan Hasanuddin airport in South Sulawesi, the Sam Ratulangi airport in North Sulawesi province, and the Juanda airport in East Java province.
The president said the sectors which are significantlr affected by the COVID-19 pandemic include those of the aviation and tourism.
He called on the authorities to make the condition a momentum for consolidation in the aviation and tourism sectors with better management.
According to the head of state, the management should include decisions on flight routes and airports as hubs and super hubs, as well as possible merger of sate-owned companies dealing with the aviation and tourism businesses.
"In the hope, the economic foundation in the sectors of tourism and air transportation would become stronger and better. And the sectors would move faster," he added.
The president saw the number of existing airports in the country is too many.
"There are 30 international airports in the country. I think other countries do not have that many," he said.
Jokowi noted that the key is in the four airports, namely, the Soekarno-Hatta airport, the Ngurah Rai airport, the Juanda airport, and Kualanamu airport.
The president also called for a leap in the tourism sector concerning the management of the tourism ecosystem and supporting sectors including the aviation designs with integrated and consolidated management from the upstream to the downstream.
"That has never been done starting from the management of airlines, airports, and connected flight routes to the management of destinations, hotels, travels, and local products as well creative industry," he said.
Reporting by Indonesia Window