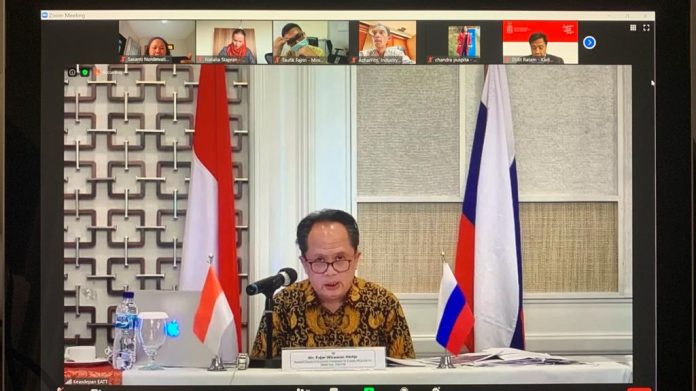 Jakarta (Indonesia Window) – Indonesia and Russia have agreed to reaffirm their joint commitment to enhance economic cooperation in the fields of trade, investment and industry to recover the impacts of the COVID-19 pandemic.
The agreement was attained by the two countries at the 4th Indonesian-Russian Working Group on Trade, Investment and Industry (WGTII) virtual meeting on Wednesday (Oct 14).
Coinciding with the 70th anniversary of bilateral relations, the 4th WGTII is an important forum to further strengthen cooperation, collaboration, consultation and dialogue in the economic field between the two countries, Deputy Assistant for European, African and Middle East Economic Cooperation at the Indonesian Coordinating Ministry for Economic Affairs, Fajar Wirawan Harijo, said.
Meanwhile, the Director of the Department of Multilateral Economic Cooperation and Special Projects, the Russian Ministry of Economic Development, Natalia Stapran, as the chair of the Russian Delegation, said Indonesia is one of the important trading partners for Russia.
"Russia is committed to increasing trade and investment values with Indonesia," she said
The 4th RI-Russia WGTII Meeting discussed various obstacles, opportunities and breakthroughs to reduce trade export/import barriers; exploration of strategic industrial development cooperation; the COVID-19 mitigations, including vaccine development cooperation; and efforts to promote participation of the business and private sectors of the two countries in investment projects.
Indonesia and Russia also agreed to provide support for the completion of the Joint Feasibility Study Group (JFSG) between Indonesia and the Eurasian Economic Union (EAEU) countries as an effort to form a Free Trade Agreement between Indonesia and EAEU member countries.
The results of the next meeting were outlined in the Protocol of the Fourth Session of Indonesian-Russian Working Group on Trade, Investment and Industry, which became the basis for the two countries in preparing for the 13th RI-Russia Joint Commission session in the field of trade, economic and technical cooperation in 2021.
Reporting by Indonesia Window