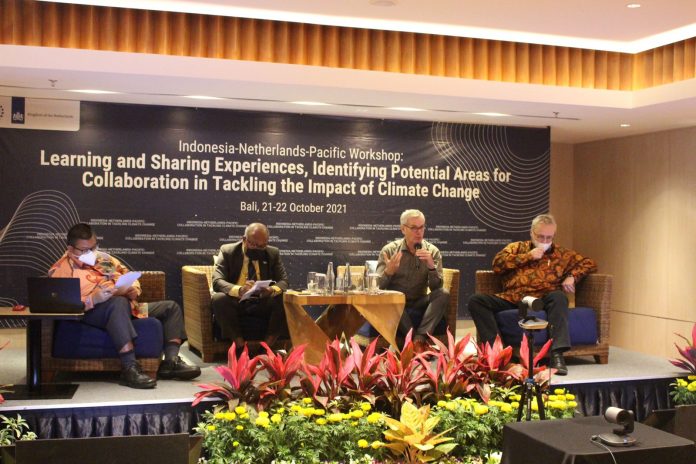 Jakarta (Indonesia Window) – Within the framework of the trilateral cooperation initiative, Indonesia and the Netherlands are involving the Pacific Islands countries to develop concrete cooperation in the field of mitigating impacts of climate change.
The initiative was opened with the Indonesia-Netherlands-Pacific Workshop: Learning and Sharing Experiences, Identifying Potential Areas for Collaboration in Tackling the Impact of Climate Change which took place in a hybrid manner in Bali on Thursday (Oct. 21).
The workshop, which was organized by the Indonesian Ministry of Foreign Affairs, supported by the Dutch Embassy in Jakarta and all Indonesian representatives in the Pacific region, was part of a joint effort to face one of the biggest global challenges today, namely climate change.
This initiative is a means to strengthen partnerships among Indonesia, the Netherlands and countries in the Pacific region.
The event was participated in by more than 100 people from various backgrounds, including government officials, academics and experts from Indonesia, the Netherlands and the Pacific.

The workshop presented six speakers, namely the Fiji Ambassador to Indonesia, the Director of Climate Change Adaptation of the Indonesian Ministry of Environment and Forestry, experts in the field of environment and climate change from Indonesia, the Netherlands, UNEP (UN Environment Program) and the PIF (Pacific Islands Forum) Secretariat.
"Climate change, like other environmental challenges, has enormous impacts on the economy, society and even politics. Therefore, Indonesia has always been a model as it has succeeded in reducing the rate of deforestation by 75 percent, which is the lowest in history," explained the Director General of America and Europe at the Indonesian Ministry of Foreign Affairs, Ngurah Swajaya, in his opening remarks.
Meanwhile, Dutch special envoy for climate Jaime de Bourbon de Parme said, "We cannot continue to rely on the business as usual principle. We gather at this event to hear new ideas, ideas beyond the usual to fight together the challenges of climate change," he said.
According to PIF's Director of Programs and Initiatives Zarak Khan, fighting the impacts of climate change requires very strong partnerships.
"We support further collaboration as a follow-up to our event today," he said.
The climate change workshop resulted in three main recommendations.
First, strengthening the commitment to establish the Indonesia-Netherlands-Pacific trilateral cooperation.
Second, establishing the Pacific-Indonesia-Netherlands Network (PINN), which consists of elements from the government, the community, academics and experts, as well as civil society.
Third, prioritizing cooperation in mitigating impacts of climate change which includes coastal rehabilitation, tourism and fisheries.
"Overcoming impacts of climate change is our joint commitment, and following up on the results of today's meeting will be a proof of our shared commitment," said an expert of the Indonesian Foreign Minister for Political, Legal and Security Affairs, Tri Tharyat, when closing the event.
Reporting by Indonesia Window