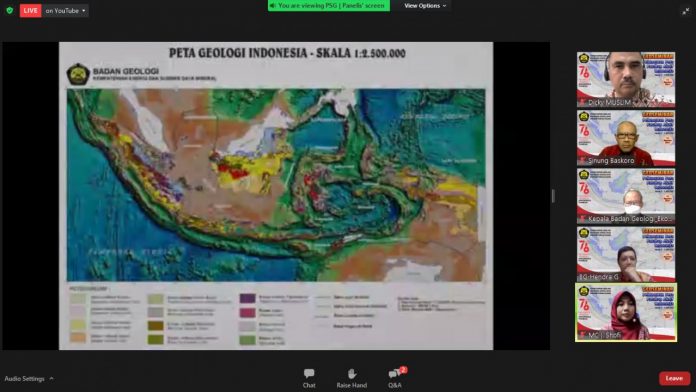 Jakarta (Indonesia Window) –  Indonesia's Geological Agency of the Ministry of Energy and Mineral Resources has launched a map of active faults in Indonesia as part of efforts to mitigate geological disasters in the country.
"The Indonesian active fault map with a scale of 1: 5,000,000 was prepared to meet the need for data and information on earthquake disasters caused by active faults," said agency's head Eko Budi Lelono in the launch of the map, Friday (Aug. 13).
Indonesia is an archipelagic country located within the geotectonic scope of subduction and collision among active tectonic oceanic and continental plates.
These conditions make the Indonesians territory prone to disasters and has a risk of earthquake shocks and volcanic eruptions that threaten the life and development on it.
Therefore, the map can be used as a reference in analyzing disaster potential probabilistically and deterministically by tectonic experts, as well as civil and planning experts, by calculating the potential risk of earthquakes that may occur.
The Geological Survey Center at the Geological Agency has been conducting seismotectonic mapping which is the forerunner of the active fault map since 1978.
The seismotectonic mapping has produced at least 17 sheets of seismotectonic maps with a scale of 1:100,000 and 25 sheets of seismotectonic maps with a scale of 1:250,000.
Head of the Geological Survey Center Hendra Gunawan said an agency has completed Indonesia's active fault maps with a scale of 1:5,000,000 which provides general information on the presence of active and potentially active faults. The aim is to increase awareness of potential earthquake disasters, especially active earthquakes.
"The center will complete active fault maps in digital form with a scale of 1:1,000,000 in 2021-2025 with more detail on disaster-prone cities," Hendra said.
The active fault map provides basic data and information that geologists, geophysicists, and civil engineers and planners can use to evaluate the origins of earthquakes and the potential disasters they cause.
The public can download this map on the Geological Survey Center's page at psg.bgl.esdm.go.id or send a request to geomap@esdm.go.id.
Reporting by Indonesia Window