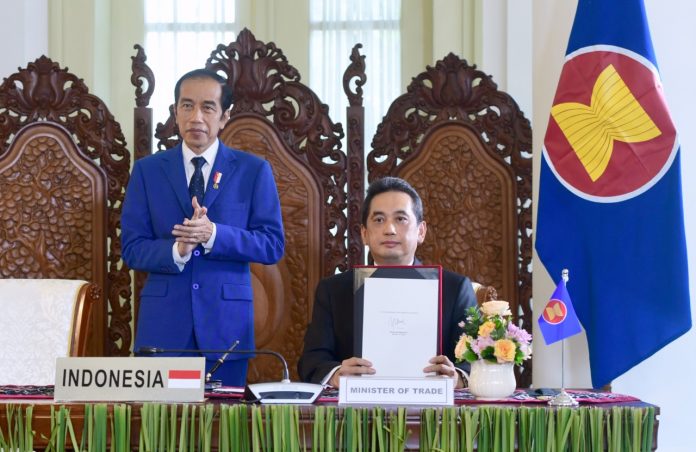 Bogor, W Java (Indonesia Window) – The Indonesian government has expected that the Regional Comprehensive Economic Partnership (RCEP) will increase the national exports by 7.2 percent.
"Through RCEP, Indonesia can enjoy the spill over effect of the FTA (Free Trade Agreement) owned by RCEP member countries and non-member countries. The expansion of Indonesia's role through the global supply chain from the spill over effect has the potential to increase the national exports by 7.2 percent," Indonesian Minister of Trade Agus Suparmanto stated after signing the RCEP document at the Bogor Palace in West Java on Sunday.
RCEP was signed by 10 ASEAN member countries and five partner countries, namely China, Japan, South Korea, Australia and New Zealand.
"The fifteen countries in the RCEP agreement cumulatively represent 29.6 percent of the world's population, 30.2 percent of world GDP (gross domestic product), 27.4 percent of world trade, and 29.8 percent of world FDI (Foreign Direct Investment)" the minister pointed out.
Based on a study last September, within five years after the signing, RCEP has the potential to increase Indonesia's exports to participating countries by 8-11 percent.
Investment in Indonesia also has the potential to rise by 18-22 percent.
Reporting by Indonesia Window