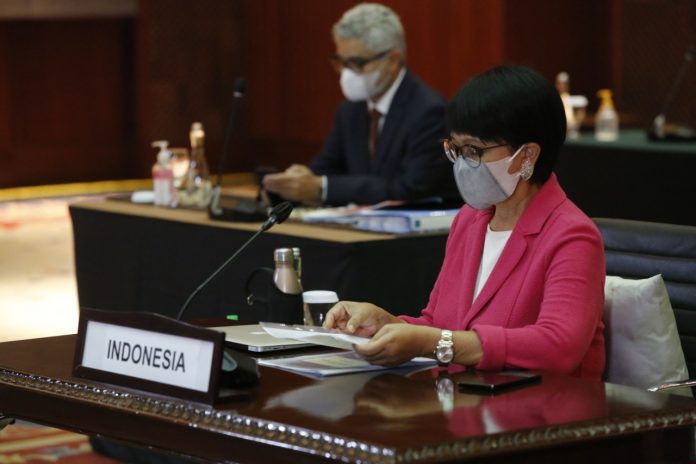 Jakarta (Indonesia Window) – The Asia Pacific Economic Cooperation (APEC) should focus on efforts to provide access to the global value chain for Micro, Small and Medium Enterprises (MSMEs), an Indonesian official remarked at the APEC Ministerial Meeting which was held virtually on Monday (Nov 16).
Indonesian Minister of Foreign Affairs Retno Marsudi emphasized that the APEC collaboration should bring positive impacts to all people of member countries.
Considering that MSMEs represent 97 percent of all businesses in the world, and more than 50 percent of global employment, the APEC collaboration should promote the participation of MSMEs in the digital economy.
"Therefore, the APEC Internet and Digital Economy Roadmap should be able to support the integration of MSMEs into the digital economy," FM Retno added.
APEC's Post-2020 vision is to achieve an open, dynamic, resilient and peaceful Asia Pacific community by 2040.
There are three main pillars in achieving the Post-2020 APEC vision, namely trade and investment; digital and technology; as well as quality economic growth.
Foreign Minister Retno stated that strong, balanced, safe, sustainable and inclusive economic growth could be achieved by stregthening connectivity.
APEC should synergize initiatives regarding regional connectivity, and focus on beneficial cooperation while putting aside competition, she stressed.
The post-2020 APEC vision will be launched by APEC Economic Leaders at the 2020 APEC Summit on November 20.
The 2020 APEC Ministerial Meeting resulted in an APEC Ministerial Joint Statement containing the results of APEC's works for 2020, including efforts to deal with the COVID-19 pandemic, the use of the digital economy and technology, as well as political support for the 2030 Sustainable Development Agenda.
Reporting by Indonesia Window