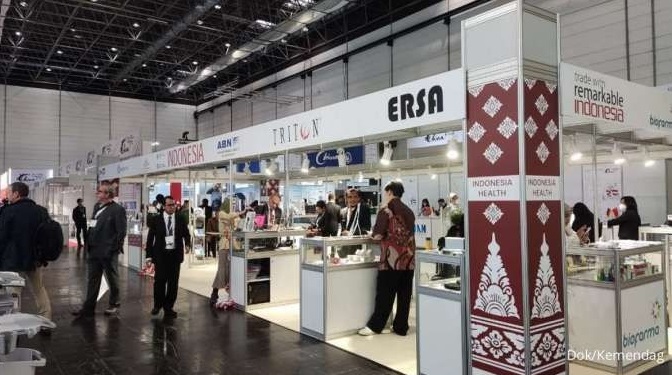 Medical devices contributed a potential transaction of 9.15 mln U.S. dollars to Indonesia from Arab Health 2023 which took place for four days from 30 January to 2 February 2023, in Dubai, the United Arab Emirates (UAE).
Jakarta (Indonesia Window) – Indonesia has managed to book a potential transaction of 9.15 million U.S. dollars for its medical devices during participation in Arab Health 2023 at the Dubai World Trade Center, the United Arab Emirates (UAE).
The Indonesian Ambassador to the UAE, Husin Bagis, said that Indonesia's participation in Arab Health, which lasted for four days from 30 January to 2 February 2023, was a very good first step for Indonesian companies.
"Since the first day of the Arab Health 2023 exhibition, Indonesian companies have managed to secure trade contracts. The activity is expected to trigger other Indonesian companies attending Arab Health 2023 as exhibitors to obtain potential trade transactions from buyers in the Middle East and Africa regions," Husin said as quoted by the Indonesian Trade Ministry's website on Tuesday.
Head of the Indonesian Trade Promotion Center (ITPC) in Dubai, Muhammad Khomaini, said as many as ten Indonesian companies participated in Arab Health 2023.
The ten companies are PT Enesers Mitra Berkah, PT Fyrom International, PT Graha Teknomedika, PT Inspiry Indonesia Konsultan, PT Mega Andalan Kalasan, PT Oneject Indonesia, PT Sterin Laboratories, PT Sugih Instrumento Abadi, PT Trimitra Garmedindo, and PT Triton Manufactures.
"The ten Indonesian companies that took part in Arab Health 2023 managed to score a potential transaction of 125 billion rupiahs (about 8,2 million U.S. dollars). Products of interest include hospital beds, auto-disable syringes, and respiratory pumps. This shows that Indonesian medical devices are able to compete in the global arena," Khomeini said.
The largest contribution to the potential transactions was obtained from six trade contracts worth 850 thousand dollars.
Khomaini said that at the participation in the Arab Health 2023, 592 buyers had visited the Indonesian Pavilion.
"Buyers' interest is certainly a very positive thing following Indonesia's absence from the exhibition for several years. Indonesia appeared at the Arab Health exhibition for the last time in 2017," Khomaini noted.
Reporting by Indonesia Window